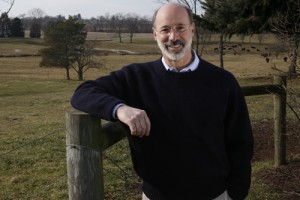 This morning, Governor Wolf announced that he has a form of treatable prostate cancer.  
Since then, a number of officials and organizations have reacted, wishing the Governor the best of luck (as do we).
Those statements can be read in full below:
PA Republican Party
"Our Party may battle on policy issues with Governor Tom Wolf, but we join him in his battle against prostate cancer," PA GOP Chair Rob Gleason said. "On behalf of the entire Republican Party of Pennsylvania, I want to offer Governor Tom Wolf our thoughts and prayers and wish him a speedy recovery."
PA Democratic Party
"Democrats across our great Commonwealth are praying for Governor Wolf and his family. Throughout his life the Governor has proven that he is a fighter, and we're confident he will beat cancer with that same fighting spirit and upbeat attitude. We commend him for using his treatable case to shed light on the importance of preventative care, and we encourage everyone to schedule regular medical checkups."
House Minority Leader Frank Dermody
"The governor has shown time and again that he's not one to back down from a challenge. This man hasn't taken a break in more than a year.
"I have no doubt that Governor Wolf will take this in stride and continue fighting for the changes he wants to see that will make Pennsylvania better.
"This just shows the value of regular health checks, and I'm glad to hear he plans to follow the medical protocols as instructed.
"House Democrats are proud to stand in the governor's corner. We share his goals and we look forward to partnering with him to get important things done."
Senate Candidate, and Former Chief of Staff to Gov. Wolf, Katie McGinty
"I am deeply saddened to learn that my good friend Governor Tom Wolf has been diagnosed with prostate cancer. Thankfully, the disease was caught early and I have faith that Governor Wolf will receive the best treatment available for a full recovery. He is a great man and a dedicated public servant, and I am honored to have worked alongside him. My family and I are keeping the Governor in our thoughts and praying for his speedy return to health."