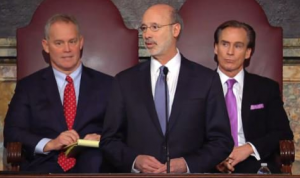 What a difference a year makes.
One only has to look at that subtitles of the Governor's first and second budget addresses to see the change in his outlook.
In 2015, his speech was focused on "Schools that Teach, Jobs that Pay and Government that Works". Those topics received one sole mention in the conclusion of the address.
Instead, the Governor's 2016 speech was focused on the following bullet points: A Commonwealth in Crisis; This is About Math; What Hasn't Worked; We Had a Deal; We Can't Keep Digging; and A Path Forward.
Commonwealth in Crisis
"This will not be an ordinary Governor's budget address," Wolf pledged at the start explaining that he can't give the standard budget proposal this year.
"I can't give that speech. Not under these circumstances," he stated. "My fellow Pennsylvanians: Our Commonwealth is in crisis. A crisis that threatens our future. And today, I want to be clear – with each member of the General Assembly, and with every Pennsylvanian – about the actions we must take to resolve this crisis, and the consequences we will all face if we don't."
This is About Math
Gov. Wolf made it clear from the beginning that he doesn't view the issue of one of ideologies but one of simple arithmetic.
"The problem is not that Republicans in the General Assembly and I don't see eye-to-eye," Wolf asserted. "No, this crisis is not about politics at all. This is about math. Pennsylvania now faces a $2 billion budget deficit. That's not a Democratic fact or a Republican fact. It's just a fact."
He then went on to list the various horrors that would be inflicted on the commonwealth's schools and citizens if no budget is passed.
What Hasn't Worked
Wolf then proceeded to lay the problem at the feet of years of inaction from officials in Harrisburg, specifically the education cuts instituted by Governor Corbett (though the Governor never named his predecessor).
"Let's be honest about where we are and how we got here. After all, this fiscal crisis didn't appear from out of nowhere. This was no act of God. We are in a hole we dug ourselves, right here in Harrisburg. And if the consequences I'm describing sound familiar, it's because Pennsylvania has been building up to this moment for years."
The Governor went on to scold the legislature for all the credit downgrades the commonwealth has been given over the last few years.
We Had a Deal
It's clear Gov. Wolf is still peeved that his deal with the legislature fell through last December.
"While I was disappointed by the Republicans' proposal, I wasn't discouraged," he said. "So I came to the table ready to talk. Ready to negotiate. Ready to compromise. It took months of bargaining. It took some painful sacrifices from both sides. But in the end, all that hard work paid off. We had a deal."
Up to this moment, the audience was completely quiet as Wolf breezed through his speech.
He got one clap for mentioning liquor reform. "There's one," Wolf ad-libbed.
When he stated that House Republican walked away from the deal, though, he got a chorus of boos followed by applause from the chamber's respective parties.
"But we still have a budget crisis," Wolf continued. "That fiscal time bomb is still ticking. Our teachers hear it. Our parents hear it. Our seniors hear it. Our creditors certainly hear it. Do you? But the time for games is over. And now it's time to finish the job we should have finished last year."
We Can't Keep Digging
In this section, the Governor asserted that he doesn't care about the fissures in the House Republican caucus and is only concerned with getting a full budget agreement.
"It's up to the people in this chamber to save Pennsylvania's future," the Governor declared. "It's time for the people in this chamber to get back to work."
The Path Forward
"The good news is that I still have my pen," the Governor stated while pledging to sign the compromise budget if the House passes it.
"If you can't agree to the budget reforms I've proposed, then help me find a sustainable alternative. But if you won't face up to the reality of the situation we're in…if you ignore that time bomb ticking…if you won't take seriously your responsibility to the people of Pennsylvania – then find another job."
The Governor also proclaimed that Pennsylvania's citizens don't care about the politics of the budget.
"Nobody in Pennsylvania will care one iota about the politics of a disaster that costs our Commonwealth so much. I refuse to let that happen. But I cannot stop this catastrophe alone. The people of Pennsylvania need you to do the right thing."
Conclusion
"After a year as Governor, despite the overwhelming challenge we now face, I still believe in Pennsylvania," Wolf concluded. "The possibilities before us are still limitless. A bright future is still within our grasp. I still believe in the enormous potential of our Commonwealth. And I'm counting on everyone in this chamber to do the right thing so we can fulfill that potential. I'm ready to do the hard work to build a brighter future for Pennsylvania. I hope you're ready to join me."
At the end, however, it remained clear just why this gap between the Governor and the legislature still exists.
"I am not asking people in this chamber to give up their political beliefs. I am asking that they join me in mustering the political courage to meet this crisis head-on," the Gov stated at the start of his conclusion. "This doesn't require anyone to walk away from his or her principles. It merely requires that we each declare that our highest principle is the responsibility each of us has to the people of Pennsylvania."
The problem is that many of the men and women Governor Wolf spoke to believe that making the deal he seeks would compromise their political beliefs and be irresponsible to the people of Pennsylvania.
Unfortunately for the Governor, this issue can't be solved with a pen.