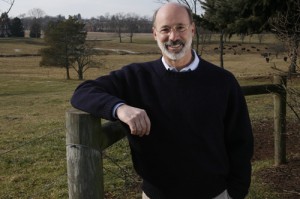 The latest YouGov polls have been released.
They show Tom Wolf with a 52% to 39% lead over Gov. Corbett among likely voters when leaners are included. Just 8% are undecided.
This is an improvement for Wolf from last month's YouGov poll. That survey had the incumbent down just nine points (50% to 41%).
Wolf has a big advantage among female voters, 54-36, and is now in the lead among male voters, 50-43.
Two weeks ago Corbett had a five point lead among men, although his twenty-two point deficit with women has declined to eighteen points.
The other subset of voters that flipped from the incumbent to the challenger since the last poll were independent voters. They favored the Governor by a 4% margin last time but now Wolf has the 3% lead.
The Democratic nominee also leads across all races and all age groups (except for voters 65 and older).
YouGov uses an unique methodology but were judged to be the second-most accurate polling firm in the country after 2012. Their surveys have been done this year in conjunction with the New York Times and CBS News.
YouGov surveyed 3,111 respondents from October 16th to October 23rd. The margin of error is plus or minus 3%.