By Keegan Gibson, Managing Editor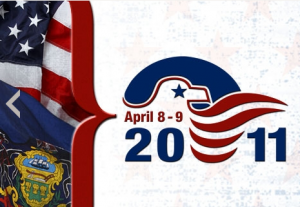 Before there was a Tea Party, Pennsylvania conservatives had the PA Leadership Conference. For 20 years, it's where the right of the right have gone to talk about electing ideological purebreeds up and down the ballot across PA..
Their annual conference is this weekend at the Radisson Penn Harris in Camp Hill, and is a must-attend for any Republican seeking any statewide office.
PoliticsPA will be on the ground at the PLC and on the lookout for possible candidates, including rumored challengers to Senator Casey (for eaxmple, State Sen. Jake Corman speaks at 3pm today).
Highlights of the weekend include features Speaker Charles Krauthammer at Friday's dinner, and 2012 GOP Presidential hopeful Herman Cain on Saturday morning.
For dedicated activists, there are seminars on Tea Party organizing, running for office, the Constitution, panel discussions and more. So if you want to hear about PA's future courtesy of Range Resources, or learn about "Curbing Union Power," come on by.
Here's the weekend's itinerary:

9:00 A.M. – Campaign School: Running for Local Office
Ryan Shafik, Rockwood Strategies
Mark Harris, Cold Spark Media
Ned Ryun, American Majority
9:00 A.M. – Seminar: Fundamentals of the U.S. Constitution
Mike Folmer, State Senator
Louis Petolicchio, Constitutional Organization of Liberty
1:00 P.M. – Welcoming Remarks:
Frederick W. Anton, III, Chairman Pennsylvania Leadership Council
1:15 P.M. – Opening Speaker:
Gov. James Gilmore, Free Congress Foundation
2:00 P.M. – Panel: Path to a Better Pennsylvania
Moderator: Matthew Brouillette, Commonwealth Foundation
Panelists: Joe Sterns, Citizens Alliance of Pennsylvania
Thomas Shaheen, PA Family Institute
Scott Roy, Range Resources
Lynne Schmidt, PPG Industries
Andrew Moylan, National Taxpayers Union
3:00 P.M. – Speaker: Jake Corman, Senate Appropriations Chairman
3:30 P.M. – Panel: Curbing Union Power
Moderator: Simon Campbell, Stop Teacher Strikes, Inc.
Panelists: Daryl Metcalfe, State Representative
Vicki Craft, Keystone Associated Builders & Contractors
John Bear, State Representative
Larry Pastor, Neshaminy Taxpayer Group
Chris Prandoni, Americans for Tax Reform
5:00 P.M. – Charles Krauthammer Reception (ticketed separately)
6:30 P.M. – Liberty Dinner
Master of Ceremonies: R.J. Harris, WHP Newsradio
Musical Presentation: Reilly Johnson
Featured Speaker: Charles Krauthammer
Speaker: U.S. Senator Pat Toomey
Speaker: Lt. Governor James Cawley
9:00 P.M. – Young American for Freedom screening of Waiting for Superman
9:00 P.M. – Freedom Connector Happy Hour — Sponsored by FreedomWorks
Saturday, April 9, 2011
7:00 A.M. – Freedom Breakfast:
M.C.: Lowman Henry, Lincoln Institute
Speaker: Tim Phillips, Americans for Prosperity
Speaker: John Gizzi, Human Events
8:00 A.M. – Keynote Panel –School: It's Your Choice
Moderator: Otto Banks, Reach Alliance
Panelists: Jeffrey Piccola, State Senator
Anthony Williams, State Senator
Jeanne Allen, Center for Education Reform
Robert Enlow, Foundation for Educational Choice
Richard Komer, Institute for Justice
9:00 A.M. – Pennsylvania Straw Poll Ballots Due
9:00 A.M. – Keynote Speaker
Introduction: Colin Hanna, Let Freedom Ring, USA
Speaker: Herman Cain, Presidential Hopeful
10:00 A.M. – Panel: TEA Time: Effective Grassroots Activism
Moderator: Katy Abram, Americans for Prosperity
Panelists: Rich Davis, American Sheepdogs
Ana Puig, Kitchen Table Patriots
Sam DeMarco, Veterans & Patriots United
Bob Howard, PA Coalition for Responsible Government
Kim Schmidtner, Lehigh Valley Project 9-12/Tea Party
12:00 P.M. – Media All Star Luncheon
MC: David Taylor, PA Manufacturers Association
SPEAKERS: John Fund, Wall Street Journal
Rose Tennent, Quinn & Rose Program
* Announcement of the Pennsylvania Straw Poll Results.
POST CONFERENCE: Blogger Conference hosted by Americans for Prosperity