Bradford County Commissioner and Democratic candidate for Lt. Governor Mark Smith unveiled his latest campaign ad today, which takes aim at two of his rivals.
The 15-second spot concerns the records of State Senator Mike Stack and former Congressman Mark Critz when it comes to abortion.
"I'm the only major candidate for Lieutenant Governor Planned Parenthood name pro-choice," Smith states. "Because Mike Stack and Mark Critz vote against choice, risking women's healthcare."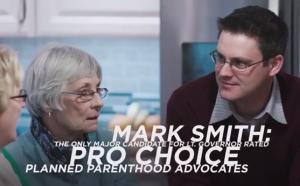 The ad cites Stack's vote for SB 732, which pro-choice advocates describe as the "TRAP law" because it has caused the closure of women's health care clinics. Additionally, the commercial backs up the claim against Rep. Critz by noting his vote on H.R. 358 which prohibited federal funds from the Affordable Care Act from going to abortions (any federal funding of abortions is already prohibited by the 1976 Hyde Amendment).
While little polling has been done in the race, it makes sense that Smith would attack Critz and Stack. The former was a U.S. Congressman and the latter has the most money in the contest.
The commercial is set to run in the Philadelphia and Wilkes-Barre markets.
Other Democratic candidates for Lt. Governor (who probably resent not being considered "major candidates") are Harrisburg City Councilman Brad Koplinski and State Rep. Brandon Neuman.