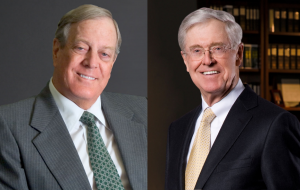 The liberal boogeymen known as Charles and David Koch will be getting involved in Pennsylvania's Senate contest.
According to Tim Alberta and Eliana Johnson of the National Review, the Koch brothers plan to spend money on TV ads in the Toomey/McGinty race.
Their network is focusing on just four states at the moment: Nevada, Ohio, Pennsylvania and Wisconsin.
The latter three feature GOP incumbents running for re-election in blue states while Nevada is an open seat that is considered the most vulnerable one that the Dems are defending this year.
While Alberta and Johnson mention Florida as a possible fifth race, there is hesitancy about that state's late primary. Apparently, they are put off by a spike in ad rates in September. As a result, any TV spots in PA will likely air over the summer.
Perhaps ironically, while Democrats will fret about this infusion of cash, the National Review piece focuses mainly on how the Koch brothers are pulling back in this election cycle as compared to their efforts in 2010, 2012 and 2014.
Incumbent GOP Senator Pat Toomey is running for a second term against Democratic nominee Katie McGinty in the November 8th general election.
UPDATE: Kenneth Vogel of Politico is reporting that the Koch brothers have spent $30 million in total for these ad reservations. It is not clear what amount of that sum will go to the PA contest.