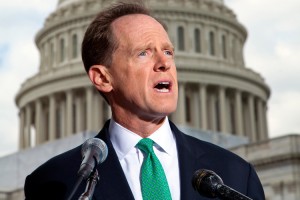 Senator Pat Toomey voted against the budget deal today.
The bill, with the support of Pennsylvania's senior Senator Bob Casey, still passed 64-35. You can look at how your each PA member of the House voted here.
"Unfortunately, this budget deal fails to address our overspending problem – in fact, it makes the problem worse," Toomey stated. "It also suspends the debt limit and allows Washington to continue piling up more red ink without addressing the gross fiscal mismanagement that causes the need for more borrowing in the first place."
It didn't take long for two of his Democratic opponents to respond.
"Pat Toomey voted against the bipartisan budget deal this morning, showing that he would rather see our country face a catastrophic default than agree to a realistic compromise that looks out for the wellbeing of average Americans," former Congressman Joe Sestak wrote.
"By voting against the bipartisan budget agreement last night, Senator Toomey proved that he is willing to play games with the full faith and credit of the United States at the expense of Pennsylvanians," former Chief of Staff to Gov. Wolf Katie McGinty stated. "Once again, Toomey double-downed on his right-wing, partisan agenda and was willing to let the government shutdown and allow our nation to default on our obligations. While this budget agreement isn't perfect, it promotes economic growth, job creation, prevents drastic cuts to Social Security disability benefits and massive increases to Medicare premiums."
Sestak, McGinty and Braddock Mayor John Fetterman are competing for the Democratic nomination. Sen. Pat Toomey is running for his second term.