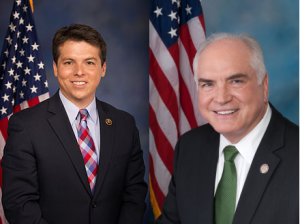 After President Donald Trump's speech to a joint session of Congress, Pennsylvania's elected officials reacted.  Many stuck to the party line, but a few chose to move away from the line.  
Republicans wanted to portray Trump's remarks as strong and unifying for the country, while Democrats pushed the narrative of broken promises between the campaign trail, Trump's first 40 days in office, and his speech.  
PoliticsPA is giving the 'party warrior award' to Democratic Rep. Brendan Boyle and Republican Mike Kelly for most strongly articulating the party line. Boyle blasted Trump while Kelly praised him.
The 'temperance award' goes to Republican Senator Pat Toomey for striking a cautious tone about the speech, and to Democratic Senator Bob Casey for being open to working with Trump on some issues.  
Below are the highlights from each statement that was released and a link to the whole statement. PoliticsPA will update with additional statements as we receive them.
Governor Tom Wolf
While I appreciate the President's mention of the opioid epidemic, we need specifics on what the President and Congress plan to do about the 125,000 Pennsylvanians whose treatment coverage they want to end. These consequences are only made worse by the plan to further cut Medicaid coverage for kids, seniors and the disabled."
Senator Bob Casey
"If President Trump is ready to get serious and fight for policies that make sure Pennsylvania's workers and middle class families get a fair shot, then I am willing to work with him. However, if President Trump continues to go along with the extreme agenda of Congressional Republicans then I will keep holding him accountable."
Senator Pat Toomey
"None of us will agree with the President all the time. Nevertheless, the country needs lawmakers to resist the call of obstructionism and work with the President, where they can, to tackle the great fiscal, economic, and security challenges of our time."
PA-2: Rep. Dwight Evans (D-Philadelphia)
"President Trump made several bold statements in tonight's address that contradict his actions over the first 40 days of his presidency. Actions speak louder than words."
PA-3: Rep. Mike Kelly (R-Butler)
"Tonight we heard a proclamation of strength, confidence, and ambition in pursuit of a greater country and better future for every single American. It was one of the most positive and unifying addresses I have ever heard delivered at that podium, and I thank President Trump for coming to the People's House to deliver it."
PA-8: Rep. Brian Fitzpatrick (R-Bucks)
"While there will be competing reactions from both sides, it's imperative that this Congress – and this country – find areas of agreement and common goals to focus on. From tax reform and infrastructure investment to ensuring a government accountable to the people it serves, I'm ready to work with groups like the Problem Solvers Caucus to make these bipartisan objectives a reality."
PA-9: Rep. Bill Shuster (R-Blair)
"President Trump was elected by huge margins in Central and Southwestern Pennsylvania because he promised to shake up Washington, and that's exactly what he has been doing. Tonight he delivered the strong speech that has been missing over the last eight years."
PA-10: Rep. Tom Marino (R-Lycoming)
"Tonight, President Trump showed that he is a strong leader who has a vision for making our country stronger."
PA-11: Rep. Lou Barletta (R-Luzerne)
"Tonight, in his joint address to Congress, President Trump delivered an optimistic strategy for moving our country forward by focusing on issues that are important to all Americans, while highlighting his plans to work with both Republicans and Democrats to overcome the challenges we face as a nation and condemning evil in all its forms."
PA-13: Rep. Brendan Boyle (D-Philadelphia)
"The President took to the podium in front of Congress tonight without a single jobs bill or accomplishment to his name.  The reality of the world the President lives in and the truth of his actions tell a very different tale: a story of broken promises to the American people. Forty days after his inauguration, President Trump and the Republican Congress still have not lifted a finger to create jobs or raise wages for hard-working Americans."
PA-16: Rep. Lloyd Smucker (R-Lancaster)
"We're dreaming big again. Tonight, President Trump laid out a bold agenda that sets clear priorities: the safety of the American people and economic opportunity for everyone."