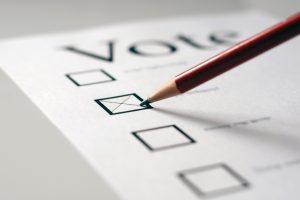 Philadelphia Commissioners said they will not update the voting machines used for the 2020 Presidential election to ones with a paper trail.
Commissioner Lisa Deeley told WHYY the city will purchase the new machines, but not have them in use for the election.  
"I think that we are on track in the city of Philadelphia to have new equipment selected by the close of 2019," Deeley said.  
"We would roll them out in '21, not in the presidential.  We would train and maybe do a soft opening, like a trial in certain areas, then roll them out citywide in '21."
Acting Secretary of State Robert Torres ordered all counties in the state to shift to voting machines that provide a paper back up by the end of 2019.
Update: Deeley told PoliticsPA that Philadelphia is keeping with the Department of State order.
"Governor Wolf requires that counties select new voting machines by 2020 and we will meet that deadline," Deeley said.
Deeley said that trying to order the over 4,000 machines and train the over 6,000 volunteers and staff involved in the process to roll out the new machines would not end well.  She cited the last time the city rolled out new machines where it took a year to train the poll workers and ensure the public was educated on how to use the new machines.
She said that doing a limited release during the 2020 election and then a full roll out for the 2021 elections is the best way to shift to the new machines.
"It would be irresponsible to roll out new voting machines during the busiest and most important election, the 2020 Presidential election," Deeley said.