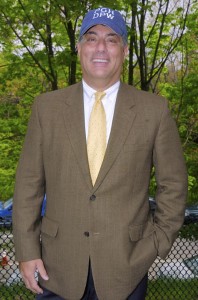 Pittsburgh City Councilman Bill Peduto announced his new campaign staff Thursday, making him the third mayoral candidate to hire top level staff.
Pittsburgh Mayor Luke Ravenstahl and City Controller and challenger Michael Lamb announced their staffs in December.
Guy Costa will take the reins of Peduto's bid and Sonya Toler will be Communications Director. Their bios are at the bottom of the story.
Mayor Ravenstahl's CM is Aletheia Henry, the Pa. state director of President Obama's campaign. City Controller Lamb's CM isAnne Batchelder, who worked for the Obama campaign and his Finance Director is Sadie Sterner-Restivo, a veteran fundraiser.
Former Pa. Auditor General Jack Wagner is also reportedly pondering a bid, including possibly as an independent in the general election.
Here are the staff bios, from the Peduto campaign. Guy Costa:
"Has been instrumental in Pittsburgh's politics and government. He played a critical role in three victorious mayoral races and led Advance Operations teams for three presidential campaigns in Pittsburgh. Guy worked on city and county infrastructure for nearly thirty years under Mayors Murphy, O'Connor and Ravenstahl. As Public Works Director, he oversaw the merger of the former General Services Department and Engineering Department. During his tenure, he revamped refuse collection and cut the number of city vehicles. He helped move the city forward by constructing bike lanes and ensuring that Pittsburgh put on its best face for an international audience during the G20 Summit. And, he did it all while running his department under budget. Most importantly, Pittsburghers knew that they could count on Guy — a tireless worker — day or night.

"Additionally, Guy spent four years running the Pittsburgh Parking Authority. Guy is currently the assistant director of the Allegheny County Economic Development Department. Allegheny County Economic Development (ACED) coordinates development initiatives. They partner with government agencies, community-based organizations, foundations and businesses. As the lead economic and residential development agency for Allegheny County, ACED works on everything from helping residents achieve their dream of home ownership to recycling brownfields. Guy will be taking a leave of absence from ACED to work on the campaign."
Sonya Toler:
"Is expert in her field — from old media to new; from journalism to government; from writing and planning behind the scenes to being in front of the mic. Sonya got her start in journalism. She spent 21 years in that field working at the New Pittsburgh Courier as news editor, the Pittsburgh Business Times as a staff writer, the Pittsburgh International Airport Magazine as managing editor, and having worked as a freelance reporter and editor. Sonya also was Director of Communications at the Allegheny Conference on Community Development.

"Sonya spent over five years as the Executive Director of the Governor's Advisory Commission of African American Affairs during the Rendell Administration. She was the Commonwealth's advocate on behalf of African Americans. Her responsibilities included serving as a policy advisory to the Governor and assisting individuals wade through the often confusing maze that is state government in areas including, education, housing, business opportunity, economic development, discrimination and health. Most recently, Sonya founded Proclaim Magazine — a digital publication for women in ministry. I am proud to announce we will be bringing Sonya home to lead our Communication efforts."