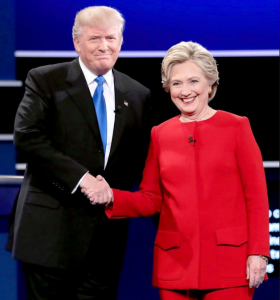 Hillary Clinton leads the first post-debate poll of Pennsylvania voters.
The latest Public Policy Polling survey shows Clinton with 49% while Donald Trump is at 44%.
When Libertarian Party nominee Gary Johnson and Green Party nominee Jill Stein are included, Clinton's lead increases to six points, 45% to 39%. Johnson and Stein receive 6% and 2% respectively.
The previous two PPP polls also had Clinton up by five points.
The numbers may not have moved but that doesn't mean respondents didn't have a clear opinion of who won the first general election debate.
By a 51% to 32% margin, voters believe Clinton won the contest.
Additionally while Clinton's favorable/unfavorable numbers are still underwater, 42% to 51%, they are still better than Trump's, 38% to 55%.
Finally, respondents were asked about the candidate's preparedness for the office. A majority believe Clinton is prepared for the presidency (52/43), has the right temperament (51/41), and can be trusted with nuclear weapons (52/41). Meanwhile, a majority think Trump isn't prepared (37/56), doesn't have the right temperament (38/56) and can't be trusted with nuclear weapons (40/54).
PPP even asked which candidate was more likely to cause a nuclear war, which Trump won by a 50% to 29%.
Public Policy Polling surveyed 886 likely Pennsylvania voters on September 27th and 28th. The margin of error is +/- 3.3%.