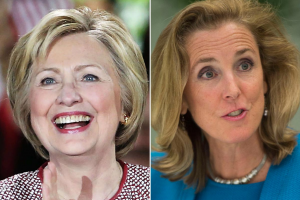 The Democratic candidates are still ahead.
According to the latest Public Policy Polling survey, Hillary Clinton and Katie McGinty are leading their respective races.
The poll was conducted for We Need Nine, an effort to advocate for Merrick Garland's confirmation to the Supreme Court. In addition to questions on that topic, PPP also asked about the presidential and Senate contests.
Hillary Clinton got 47% against Donald Trump's 42% while 11% were unsure. Meanwhile, Katie McGinty leads Pat Toomey 44% to 41% with 15% not sure.
Compared to PPP's last survey, Clinton's lead is unchanged while McGinty's advantage is cut in half.
Public Policy Polling surveyed 814 likely Pennsylvania voters on August 30th and 31st. The margin of error is +/- 3.4%.