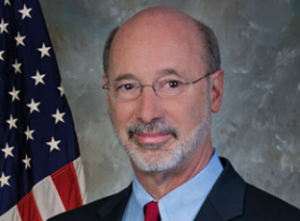 New polling provides the Governor some good news as budget season fully kicks into gear.
The most recent survey conducted by Public Policy Polling shows Gov. Tom Wolf's proposals for an extraction tax and property tax reform have decent support across the state.
Gov. Wolf wants to impose a severance tax of 5.3 percent on Marcellus Shale gas-drilling companies to restore cuts to education funding under Tom Corbett, an idea 58 percent of respondents supported.
The idea was well-received across the ideological spectrum, with 84 percent of those who consider themselves 'very liberal' and 88 percent of 'somewhat liberal's, as well as 63 percent of moderate voters, backing the proposal.
African Americans supported the plan by a whopping 79 to 3 percent margin, while a solid majority of whites are also in favor. Over 60 percent of those surveyed between 18 and 45 are also in favor of a severance tax.
Wolf's severance tax plan is based on West Virginia's system and looks to restore the $1 billion in education funding cuts over the past several years.
The Governor's proposed budget also looks to cut property taxes by 50 percent for the average homeowner, which would be offset with increases in the income and sales tax.
Of those surveyed, 46 percent supported Wolf's property tax plan, with 34 percent opposed. The governor has at least 50 percent support from those who consider themselves very liberal, somewhat liberal and somewhat conservative. Moderates showed the lowest level of support (38 percent).
The property tax proposal drew the highest level of support from those over 65 at 54 percent.
The budget deadline is set for June 30th.