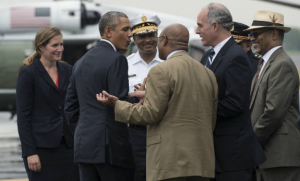 President Obama met with several Philadelphia officials Monday to thank them for their response to last week's Amtrak crash that killed eight and injured hundreds.
Philadelphia Mayor Michael Nutter, Police Commissioner Charles Ramsey and Fire Commissioner Derrick Sawyer, along with Sen. Bob Casey, met the chief executive on the tarmac at the Philadelphia International Airport where Obama praised their "swift work to treat the wounded and save lives," according to The Hill.
The president was on his way to deliver a speech on police reform in Camden when the meeting happened.
Last Wednesday, Obama released a statement lauding the emergency services in the City of Brotherly Love.
"From Washington, DC and Philadelphia to New York City and Boston, this is a tragedy that touches us all," Obama said. "As we work to determine exactly what happened, I commend the fire, police and medical personnel working tirelessly and professionally to save lives."