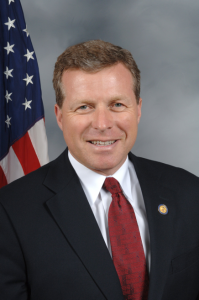 Fundraising totals for the second fiscal quarter of 2013 continue to roll in, as Congressman Charlie Dent's (R-Lehigh) campaign is reporting that they raised $368,930 over the last three months.
"This was an outstanding quarter," said Dent. "I was pleased that financial support came from all parts of the 15th District, both old and new."
Dent added that he would not be complacent. "These were great numbers. Now the goal is to meet and hopefully exceed them."
His campaign said it has approximately $440,000 total cash on hand.
He'll need it if he wants to deter potential challengers from the left – or from the right. His current district is more conservative than it was in years past (rated R+2 by the non-partisan Cook Political Report), meaning relatively moderate Dent could face a primary challenger. Especially after Dent criticized the GOP for bringing an abortion bill to the House floor.
So far he's in the clear. There are no opponents on the horizon for either a GOP primary or a general election challenge.
The 15th district comprises Lehigh County as well as parts of Berks, Dauphin, Lebanon, and Northampton counties.