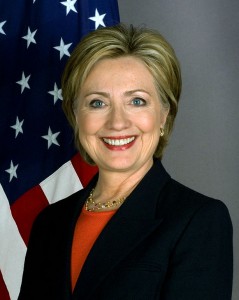 A Quinnipiac survey has found that Hillary Clinton is the favorite in Pennsylvania in all hypothetical 2016 presidential match-ups.
New Jersey Gov. Chris Christie comes closest to matching Clinton at this early stage. The former Secretary of State is only leading 45% to 41%. Gender is the key dividing line as men chose Christie 45% to 38% while women went for Clinton 51% to 37%.
Unlike some other Republicans, Christie has a positive favorability rating of 45% compared to a 36% unfavorability rating. Clinton's favorability rating is 55% to 40%.
"While hope for the presidency may be a bridge too far for New Jersey Gov. Christopher  Christie, other Republican White House hopefuls are finding even less traction when matched against Secretary Hillary Clinton," said assistant director of the Quinnipiac University Poll Tim Malloy.
Among the other GOP hopefuls is Kentucky Sen. Rand Paul. Clinton leads Paul 51% to 37%. His favorability among Pennsylvanians is only 29%. More view Paul as unfavorable (33%) than favorable.
Former Arkansas Gov. Mike Huckabee is down 51% to 36% while Clinton is ahead of former Florida Gov. Jeb Bush by a 51% to 35% margin. Huckabee, who ran for president in 2008, is seen favorably by 31% of the state. Bush's favorability rating is negative, with 36% viewing him unfavorably while only 27% have a positive view of him.
Rep. Paul Ryan of Wisconsin trails Clinton 50% to 38%. The Chairman of the House Budget committee has a favorability rating of 32% against 33% who see him as unfavorable.
It seems Hillary Clinton has established a firm advantage in Pennsylvania. The challenge, if she should choose to run, will be to hold the lead for two more years.
The Quinnipiac poll was conducted from May 29th through June 2nd and surveyed 1,308 Pennsylvanians over the phone. The margin of error is plus-minus 2.7%.