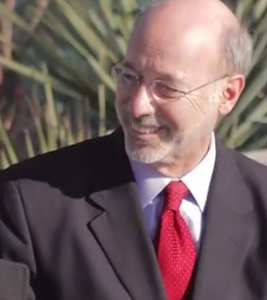 Businessman Tom Wolf has the widest lead of any Democrat hoping to face Governor Tom Corbett, thanks to superior name ID resulting from his barrage of television ads.
Wolf leads Corbett by 19%, 52% to 33%. It's a 12 point net gain since the pollster's December survey.
Former Pa. Auditor General Jack Wagner leads Corbett by 7%, 44% to 37%.
State Treasurer Rob McCord leads Corbett by 7%, 43% to 36%.
Congresswoman Allyson Schwartz leads Corbett by 6%, 44% to 38%.
Former DEP Secretary John Hanger leads Corbett by 3%, 40% to 37%.
Former DEP Secretary Katie McGinty leads Corbett by 2%, 40% to 38%.
By a 16 point margin, 52% to 36%, respondents said they disapprove of Corbett's job as Governor.
Wolf takes a slightly higher percentage of Democrats than his primary opponents do against Corbett. But his real edge comes among independents, who he leads 49% to 34%, and Republicans. 22% of GOP voters say they support Wolf over Corbett; each other Democrat takes 10% or 12%.
Wolf's name ID has surged 36 points since Quinnipiac's March survey, following weeks during which he was the only candidate on television. 51% of respondents had an opinion of Wolf (42% favorable).
Polls from Franklin & Marshall and Harper Polling this week mirrored the Wolf surge.
Only 33% had an opinion of Schwartz, his closest competitor. 32% had an opinion of Wagner. 21% had an opinion of McCord. 17% had a opinion of McGinty. 14% had an opinion on Hanger.
"Tom Wolf springs out of the pack to seize the lead from other Democrats snapping at the heels of Pennsylvania Gov. Tom Corbett," said Tim Malloy, assistant director of the Quinnipiac University Polling Institute.
"We have eight months and change and we don't know what kind of damage Democrats will inflict on each other in a primary campaign, but Wolf is the man of the hour."
From February 19 – 24, Quinnipiac University surveyed 1,405 registered Pa. voters via live interviews on land lines and cell phones from Feb. 19 to 24. The margin of error is plus or minus 2.6%.