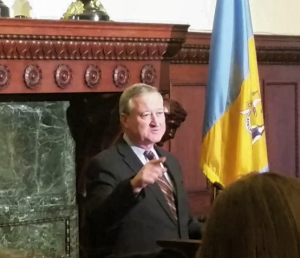 Our readers are pulling for ex-Councilman Jim Kenney.
In the Democratic field of six candidates, Kenney received about 48% of the vote in our poll.
745 respondents are backing Kenney, while 508 support Anthony Williams.
There was a big drop-off to the third-place candidate Lynne Abraham with 147 readers.
Doug Oliver received eighty-three votes while Milton Street and Nelson Diaz finished with 34 and 28 respectively.
The full results are included below:
Who are You Supporting in the Philadelphia Mayoral Democratic Primary?
Jim Kenney (48%)
Anthony Williams (33%)
Lynne Abraham (10%)
Doug Oliver (5%)
Milton Street (2%)
Nelson Diaz (2%)

Loading ...