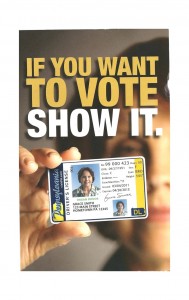 Over a year ago, Governor Corbett signed the into law a requirement that voters present photo identification.  The measurement has faced a variety of obstacles, including two injunctions and a lawsuit.
In the meantime, the rule has gotten immense attention and the state has made it progressively easier to obtain ID.
A ruling on the constitutionality of the law has once again been postponed with Commonwealth Court hearings to begin on July 15th. The Pa. Supreme Court will then review the decision made by Judge Robert Simpson in time for the November election.
Proponents of the law say that it will help to prevent prevent voter fraud while opponents say that is will only disenfranchise elderly, sick, and urban voters.  The question of 'liberal access,' posed by civil rights organizations was the impetus for law's review since votes would have be hard pressed to obtain ID before last November's election.
More than a year after being signed into law, the Pa. Voter ID requirement is still on hold. Should the Pa. Supreme Court uphold the law as constitutional or strike it down?
Strike it down. The law was intended to disenfranchise voters; electoral fraud is not an issue. (64%)
Uphold the law. It's a reasonable measure of protection, and voters have had sufficient time to obtain ID so access is no longer a question. (36%)

Loading ...