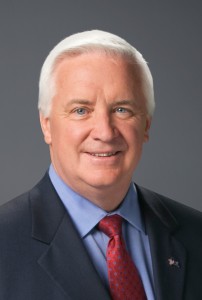 It was probably the most notable story in Pennsylvania so far this decade but it seems, at least for the moment, to finally be over.
On Saturday morning the first news of Kathleen Kane's report on Tom Corbett's conduct in the investigation of Jerry Sandusky first leaked. It concluded that there was no major wrongdoing by the Governor.
Still, the lingering sense in political circles is that the scandal has hurt Corbett's re-election chances. In a true "damned if you do, damned if you don't" situation, Democrats seem to continue to believe he stalled the investigation, while on the flip side many PSU die-hards somehow blame him for the ouster of the beloved yet controversial head football coach Joe Paterno.
Yet for all this conventional wisdom, polls have given little indication that the saga has impacted the Governor in any real way. The latest Quinnipiac poll, for instance, finds that only 1% of those that disapprove of Corbett do so because of "Penn State issues".
So, we decided to ask you our readers. Will the fact that Gov. Corbett was Attorney General during most of the Sandusky investigation have any effect whatsoever on your vote in November?
Will Gov. Corbett's Handling of the Sandusky Scandal Have Any Effect on Your Vote?
No but I still definitely won't vote for him (37%)
Yes and I definitely won't vote for him (33%)
No and I definitely will vote for him (24%)
I'm undecided, but it won't have an effect (4%)
I'm undecided, but it will have an effect (2%)

Loading ...