By Keegan Gibson and Geoffrey Middleberg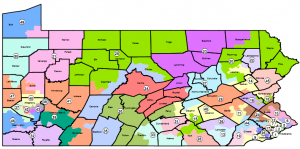 Politicos from Broad Street to Lake Erie are reeling from the Pennsylvania Supreme Court's 4-3 decision to remand the state House and Senate maps back to the Legislative Reapportionment Commission.  Legislators, candidates, consultants and reporters are trying to get a handle on what the ruling means for the myriad campaigns in the state. So, what now?
The short answer is, no one knows for sure. Not much will be known until the court renders its full opinion, which could come as soon as Thursday. Lawmakers aren't sure if they'll need to tweak the map, or reinvent the wheel. They need guidance as to how to proceed.
For the time being, justices said that the current map would remain in effect.
As of publication, it appears likely that a new map will be in effect in time for the 2012 elections. Republicans range from hopeful to confident on the subject; Democrats, like Senate Minority Leader Jay Costa, are hopeful that the current lines will stay in effect this cycle.
Sen. Jim Brewster, whose Allegheny County district was moved to Monroe County under the struck-down plan, announced quickly that he would pursue re-election.
Candidates for newly-moved districts are… hanging. State Rep. Mario Scavello of Monroe County, who is running for Brewster's seat, is continuing his campaign, too.
But in the meantime, candidates who began circulating nominating petitions on Tuesday should hold on to them: signatures you gathered will still be valid, as long as signatories live within areas that end up in their final districts. The deadline has been extended by two days, to February 16th.
Will the justices render their opinion in time for map-drawers to fix problems over the weekend? Time will tell. Let's hope the three Justices scheduled to attend Thursday's Pa. Bar event in Puerto Rico – Chief Justice Ron Castille, Justice Max Baer, and Justice Michael Eakin – had the chance to flesh out their ruling before hopping their flights.