By Keegan Gibson, Managing Editor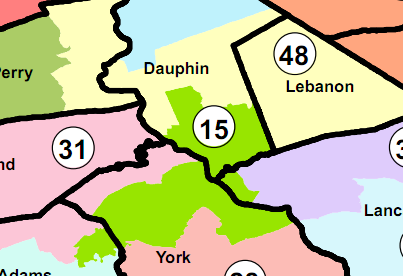 Majority Leader Dominic Pileggi's office released its updated map of new Pa. Senate districts Wednesday evening. The most dramatic change from the earlier draft is a reshaped 15th district, which no longer has the controversial horseshoe shape.
You can view the updated map here. Given Chairman Stephen McEwen's previous decision to choose the Senate GOP's map, it's likely that this will be the final version. Additionally, it reduces the overall number of county splits (full list of changes here).
The 15th district drew by far the most fire from editorial boards and critics around the state. It appeared to be a clear cut example of gerrymandering to shore up Senator Jeff Piccola, whose support of the Harrisburg takeover legislation made him a top target for Democrats. However, Piccola's unexpected decision to retire opened up more options for the GOP.
It's unclear who the map drawers could have in mind to run for Piccola's seat. The new seat is highly favorable to Republicans, but only two of the area's dozen Pa. House members reside inside the new district: John Payne of Hummelstown and Seth Grove of Dover.
Correction: five Pa. House incumbents live within the boundaries of the new 15th Senate district:
Keith Gillespie (Hellam Township, York County)
Seth Grove (Dover Township, York County)
Ron Marsico (Lower Paxton Township, Dauphin County)
John Payne (Derry Township, Dauphin County)
Will Tallman (Reading Township, Adams County)