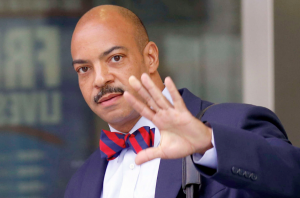 It's been a tough year for Philly DA Seth Williams.
Apparently, though, 2015 wasn't a peach either.
That's because according to David Gambacorta of Philadelphia Magazine, Williams' girlfriend slashed his tires last year.
Last November, the tires of two city vehicles were damaged and it turns out Stacey Cummings admitted to the crime last week.
Since the cars involved belonged to the city, Philadelphia residents paid the $845 it cost to replace them, reports Jason Laughlin of the Inquirer. Cummings told investigators she did it because she "received some information that was very upsetting and reacted poorly to it."
When the revelation about Williams' undisclosed gifts was made earlier this month, it was also revealed that Cummings was his girlfriend. It is unclear, however, if they are still together.