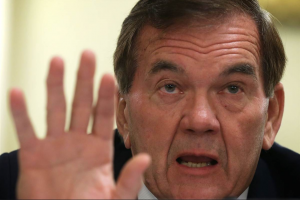 Former Governor Tom Ridge has announced his refusal to support presumptive GOP presidential nominee Donald Trump.
In an op-ed for U.S. News & World Report, Ridge expressed his frustration with Trump and his "bombastic tone [which] reflects the traits of a bully, not an American president." Ridge says he "simply cannot endorse him" despite his lifelong devotion to the Republican Party.
During the primaries, the ex-Governor first threw his support behind Jeb Bush (he served as George W. Bush's first Secretary of Homeland Security) and then John Kasich.
Ridge also made clear that he would not support Democratic front-runner Hillary Clinton, whom he says is "a divisive and untrustworthy candidate."
In his article, Ridge says in the coming months he will choose to focus not on the presidential race, but on "maintaining Republican control of the U.S. House of Representatives and the Senate," by aiding in the re-election efforts of Sens. Rob Portman of Ohio and Pat Toomey of Pennsylvania.
Despite Ridge's tepid view of either Trump or Clinton, Ridge concludes his article with a guarantee that "While I cannot endorse either candidate, whoever wins will be my president, too. And so I will help to advance their success in any way that I can."