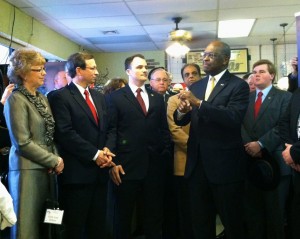 Former presidential candidate Herman Cain announced his endorsement of Sam Rohrer for US Senate at the Pennsylvania Leadership Conference on Saturday morning.
"Folks, it's real simple," he said to an excited crowd.  "We need new blood in Washintgon, DC that won't be afraid to challenge the establishment, and the only way we're going to change is from the bottom up…and outside in."
Cain has also endorsed Ted Waga's candidacy in Pennsylvania's 4th District.
"I'm proud to provide my support to Sam and Ted…they're my kind of candidates," he added.
"I call them unconventional candidates, remember, I was an unconventional candidate," Cain joked.  "…And all that means is you don't do it according to the polls but according to what the people want."
Rohrer himself later echoed Cain's sentiments in a Q & A session, stating that "ultimately the people are the ones we are to serve" and that "Washington needs to change its attitude."
On Cain's signature 9-9-9 tax reform plan, Rohrer said he supports the concepts and precepts behind comprehensive tax reform. But, "I am not specifically endorsing the 9-9-9 plan and there is no expectation that I endorse it right now."
Rohrer praised the plan earlier this week, something one Republican operative said had been a prerequisite of Cain's endorsement.
The plan contains a 9 percent national sales tax, which Rohrer neither endorsed nor dismissed.
"I support a flatter tax and when I was in Pennsylvania we had the property taxes and the sales tax which we used to reduce the property tax which research showed was good for the economy," he said.
"I want to read the bills. I am not going to comment on anything I have not read."
Finally, Rohrer said he wouldn't throw punches during Saturday afternoon's debate – but when asked about plans to go on television, he did take a quick jab at opponent Tom Smith.
"I didn't have a coal mine to sell," Rohrer quipped.