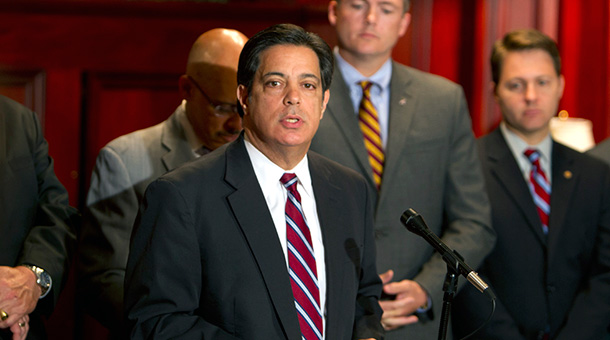 At $28.4 billion the Senate Democratic budget is larger than both Governor Corbett's and the Republican's budget.
"The difference between what our caucus is putting out today and what you've seen from the Republicans is really the difference between a budget based on maths and a budget based on myths," said Senator Rob Teplitz (D-Dauphin).
That tagline puts a lot of faith in the ability of the Senate Dems though to sway votes and minds. The budget they are proposing includes a $154 million savings though the expansion of Medicaid under the Affordable Health Care Act. This is a move which the Governor's office has previously stated likely will not take place this year.
The Republican budget, totaling $28.3 billion, does not include projections on the expansion of Medicaid either. The governor's budget is only $56 million less than the Democrats'.
"As far as the numbers are concerned, we have not dwelled on those numbers because the governor has not made his decision yet," House Majority Chair of the Appropriations Committee Rep. Bill Adolph said last week.
Within the Democrats' budget, Minority Leader Jay Costa (D-Allegheny) said liquor privatization becomes liquor modernization.
"Our priority is reforming the current system and taking the handcuffs off if you will, allowing the system to modernize and not privatize. Doing so will provide benefits to the consumers and at the same time the system as a whole while protecting nearly 10,000 family sustaining jobs," Costa said.
The focus on job creation was the Democrats' recurring theme throughout the budget presentation in the Capitol Monday. Costa boasted their budget "could generate 120,000 jobs quickly" through the Medicaid expansion, transportation spending and a variety of tax incentives to industries such as film production and aviation.
Dems also sought to increase funding to education as another pillar of their party's proposal.
"Our presentation here represents the first step in a three year reinvestment to get education back in where it should be in Pennsylvania," stated Appropriations Committee Minority Chairman Vincent Hughes (D-Phila).
This reinvestment proposal includes $212 million for education, $39 million of which will go to distressed school districts.
Without control of the House or Senate the Democrats will have a tough time making major changes to budget planning. On Monday in a party line vote the Republican budget passed through the House Appropriations Committee. In addition to a starting bargaining position, the Senate Democrats' budget represents the kind of contrast the party wants to draw with the GOP.
Negotiations will continue all month ahead of the June 30th deadline.