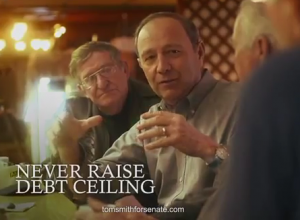 Tom Smith's heavy television campaign carried the former coal company owner to a wide victory in the GOP primary for U.S. Senate. But he's recently begun to back off of one of his most direct assertions: that he'd never vote to raise the debt ceiling.
He faces freshman Senator Bob Casey in the general election.
"In the Senate, I'll fight to repeal Obamacare, cut spending, and I'll never vote to raise the debt ceiling," he said in the ad Red Ink (watch the ad below).
He softened his stance in two recent interviews, flagged by the PA Democratic Party.
First, in a June 4 interview with WKOK's "On the Mark":
Host: Would you vote to raise the debt ceiling?

Smith: "It would take a lot of thought on that. I would not vote to raise the debt ceiling unless there was in place a plan on how to cut the deficit spending, and get our national debt stopped from growing. You always have to have a starting point, and that's where we failed each and every time, the Democrats and Senator Casey in the Senate. We raise the debt ceiling, but we don't cut expenditures, we raise it again, we don't cut expenditures. We cannot allow this country to lose its rating for borrowing money. But I would say that I could, but it would be the last time I'd ever do it, because it would have to be coupled with enough cuts in this wasteful spending, that that would be the last time we would ever do it."
Next, in an interview with the Morning Call published June 8:
During his primary campaign, Republican Tom Smith ran a television ad saying as a U.S. senator he'd "never vote to raise the debt ceiling."

But now Smith is less definitive, unwilling to say he'd never increase the nation's borrowing limit. Smith says that if Congress puts forward a "serious" plan to cut federal spending and address entitlement reform – big debt drivers like Medicare and Social Security – it wouldn't have to worry about hitting the debt ceiling.

"We know simply raising the debt ceiling without long-term reforms will not suffice," Smith said in a recent interview. "In the U.S. Senate, I will focus on cutting spending, reducing the debt, and restoring America's economic prosperity."
"Smith is already flip-flopping on an issue he made the centerpiece of his primary and spent millions of dollars to promote," said PA Dems spokesman Mark Nicastre. "Tom Smith is trying to pull one over on Pennsylvanians by saying one thing in TV ads and doing a 180 just over a month later."
The debt ceiling refers to the total aggregate spending allowed by the U.S. government. Though often portrayed as relating to the budget deficit or national debt, the connection is not direct. The debt ceiling affects only spending that has already happened.
During last summer's debt ceiling debate, the mainstream Republican stance – which Smith voiced in those two interviews – was that a debt ceiling increase should accompany reforms for future government spending. However, some conservative Republicans said at the time that they would not vote to raise the debt ceiling whatsoever – the stance Smith took in his commercial.
Asked about the apparent shift, Smith's campaign took a whack at Casey over the general issue of spending.
"Senator Casey has supported raising the debt ceiling eight times, while failing to offer a single solution to reverse the out-of-control spending that has mortgaged our children's future," said Smith Communications Director Megan Piwowar. "If Senator Casey wants to talk about the debt that has increased $6.5 trillion dollars on his watch, then that's a debate we look forward to having."
"Tom Smith would work to address the root problem, reducing spending, rather than simply kicking the can down the road again and again as Senator Casey has done."
"It is clear Tom Smith will do or say anything to get elected. It is amazing that he can't explain his flip-flop or even bother to address it," Nicastre responded. "Voters won't be fooled by Tom Smith as he pushes his radical Tea Party agenda."