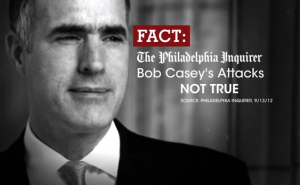 Republican Senate hopeful Tom Smith starts out on defense in his latest TV ad. He rebuts a commercial from his opponent, Sen. Bob Casey, that hit the airwaves last week.
"The Philadelphia Inquirer says: Bob Casey's attacks about Tom Smith are not true," says an announcer citing this report.
Casey's ad contained a familiar line of attack on Smith, that a budget plan which he and most Republicans support would, "end Medicare as we know it."
"What is true," Smith's ad continues, "Bob Casey voted to cut Medicare by 700 billion dollars to fund Obamacare. Casey opposes a Balanced Budget amendment," and other spending-related transgressions.
"Bob Casey's misleading attacks on Tom Smith are a patent attempt to run from his record in the Senate," said Campaign Manager Jim Conroy.  "A record that includes raiding Medicare, supporting higher taxes, and ballooning the debt – all while failing to pass a single bill and failing to propose a plan to grow the economy and create jobs."
Fact-checkers have called language like that contained in Casey's ad a mischaracterization of the GOP's budget plan.
Likewise, they have debunked the attack from Republicans that Obamacare raided Medicare (indeed, the same $700 billion in cuts are contained in the GOP's budget).
"Independent fact checkers have called attacks like Smith's 'false' and 'misleading'," said Casey Campaign Manager Larry Smar. "Smith is self-financing a barrage of negative attacks to cover up a Tea Party agenda that puts him far outside the mainstream."
"He wants to dismantle Medicare, supports trade policies that send jobs overseas and his tax proposals are even more generous to the wealthiest than Mitt Romney."