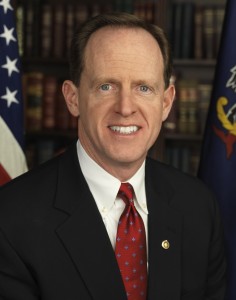 The U.S. Senate soon will take up immigration reform, an issue made even more complicated by internal GOP politics. Roll Call says Pat Toomey is a Senator to watch in the coming debate.
The biggest reason? His bipartisan push for background checks showed a willingness to cut across the aisle on big issues.
However, unlike a few other Republicans on Roll Call's list, Toomey represents a state with relatively small population of Latino voters.
Here is the Toomey rundown from CQ Roll Call:
Patrick J. Toomey, R-Pa.

Toomey, the former Club for Growth president, has emerged in the past few years as one of the GOP's top deal-makers in the Senate, though admittedly, in this political climate, that's an easier title to acquire than it used to be.

As CQ Roll Call reported in April, Toomey was a lead co-sponsor of a failed background check bill and his push on the issue won him favor with many moderates at home — something political consultants already are saying he will need to win re-election in 2016.