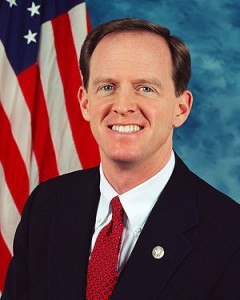 It seems that Pat Toomey won't be the Republican VP candidate.
PoliticsPA readers scooped this story a long time ago, though.
A poll, recently conducted, asked the likelihood that Romney would tap Toomey for VP, and 67 percent of readers said "no chance."
That 67 percent was 417 of the 621 votes cast in the poll. About one-fourth of readers, or 144 people, said there was a "strong possibility" that Toomey would be chosen.
And Pat Toomey agrees with our numbers.
"Very unlikely" was the term he used to describe his odds of being Mitt Romney's running mate.
In a Monday meeting with the Lehigh Valley newspaper's editorial board, The Express-Times, Toomey said that he had spoken with Romney, but not about the particulars of a Veep position.
"I think it is very unlikely," he said of his chances of being the running mate.

"We've got a deep bench. We've got a lot of people that would bring a lot to a national ticket."
This observation came in spite of claims by many conservative groups that Toomey would make a good choice for the position.
10 percent of PoliticsPA said Gov. Tom Corbett was a more likely VP pick.

Loading ...