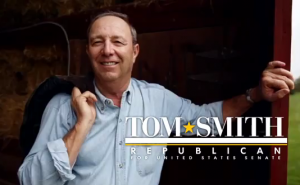 Update: If Tom Smith did OK this month, Casey did great. Smith netted $2.28M – $1.5M from himself. But Casey had his best quarter yet, raising $1.9M and now with $6.22M cash on hand.
Casey's total for the quarter includes funds from April from his pre-primary FEC report, as well as $1.538 million for the shorter period covered by the report this month. The pre-primary report covered January 1 to April 4.
With these numbers, it is pretty clear that the incumbent Senator gave his opponent a thumping in Q2.
—
The quarter, which stretched from April 1 to June 30, earned Smith $2.28 million cash on hand, with over $700,000 from outside contributions – more than double the donations from Q1.
$1.5 million was from a donation directly from the candidate to his own campaign. He donated over $4.5 million to himself in the primary, bringing his total personal contributions to $6 million plus.
The campaign said that 3,531 people donated to Smith in Q2, with 89 percent of donations coming from within the state, with $146.83 being the average contribution. Overall, 90 percent of people gave $199 or less.
Keep in mind that, during one of those three months, Smith was still in a contested primary and wasn't focused on fundraising against Casey, but beating out his other opponents in the five-man race as PA inched closer to the primary.
Even so, in the first quarter Smith handily outraised his opponent Steve Welch – the state party-endorsed candidate in the race. Smith also outspent him.
Although the lion's share of Smith's money was self-contributions (which remains the case in Q2), he still managed to outraise Welch 2-to-1 in outside contributions – $300K to Welch's $150K. Between January and March, Smith spent $3 million with $2 million left over.
These numbers look promising for Smith, but despite his fundraising, and easy victory in April, he has still lagged behind Casey in every poll – and usually by double digits.
This week's poll puts him behind by 14 points, 39 to 53. This margin is pretty much in line with the poll result average over the last few months in the state.
Incumbent Sen. Bob Casey raised $1.46 million in Q1 and had $5.2 million on hand. Data from Q2 was not available.