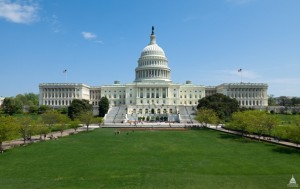 The President gives his 5th State of the Union to mixed reviews, and Bob Casey gets a Senate promotion.
SOTU: Pa. Lawmakers React: President Obama delivered his fifth State of the Union speech Tuesday night. Here's what Pa. lawmakers had to say. Spoiler: Democrats mostly liked it, Republicans mostly didn't.
Sen. Casey Appointed To Senate Finance Committee: Senator Bob Casey Jr. announced his appointment to the Senate Finance Committee. He will fill the seat vacated by John Kerry who was confirmed as Secretary of State on January 29th.
Poll: 6 Out Of 10 Pa. Voters Support Liquor Sales Privatization: A recent poll commissioned by the Commonwealth Foundation for Public Policy Alternatives found that a majority of voters in Pa. support the privatization of liquor sales.
Statewide
State House Sound Bites: Bills to eliminate Philly Traffic Court clear Senate panel
State House Sound Bites: Corbett plan to reduce liquid fuels tax is a tank half empty for municipalities
PA Independent: Most PA voters want government out of liquor sales, poll says
PA Independent: Key senator wants $1 billion more added to Corbett's $1.7 billion transportation plan
PA Independent: How big is liquor privatization pay day for school districts?
StateImpactPA: DEP Fails to Do Special Reviews on Gas Drilling Permits in Poverty Stricken Regions
StateImpactPA: DEP Says Marcellus Air Emissions Data Show Small Footprint
Capitolwire: Rafferty wants to add $1 billion to Corbett's transportation funding plan.
Capitolwire: Lawmaker eyes longshot effort to increase county human services funding
Capitolwire: House Education panel OKs special education funding bill.
Philadelphia
Philly.com: ACLU criticizes handling of complaints by police in N.J.
Philly.com: Corbett shifts stance on cuts to school funds
Philly.com: State rep from Chester faces ethics probe
Philly.com: Casey named to key finance committee
Philly.com: Protest frames Camden police plan as a civil rights issue
Philly.com: Hite testifies before Council about Philly school closings
Commonwealth Confidential: When it comes to legal fees, working for Corbett is a plum deal
Commonwealth Confidential: PA politicians bridge partisan divide at State of the Union
Heard in the Hall: City revenues holding up
PhillyClout: All casino, all day: State Gaming Control Board hears 6 pitches from casino applicants
CapitolInq: Casey named to key finance committee
WHYY Newsworks: Council, community grill Philadelphia superintendent on school closings
City Paper (Weekly, Wednesday): PHILAPHILIA Dead-Ass Proposal of the Week: Philadelphia CityCenter
Phillynow.com: House bill seeks restoration of $84 million for Pa. human services
Phillynow.com: GOP lawmaker seeks $2.7 billion for Pa. transportation projects
Philadelphia Weekly: Savage Love
KYW Newsradio: Protest Put Off On Handling Of Autumn Pasquale Murder Case
SEPA
AP: Pa. lawmaker reintroducing marijuana legislation
AP: Study says $780M in restitution goes unpaid in Pa.
AP: Corbett pushes budget plan before business leaders
AP: Pa. lawmakers prod Corbett's transportation plan
AP: Former PennDOT worker sentenced over false IDs
AP: Pa. senators to hear Corbett's $5B transportation plan; gas tax hikes
Bucks County Courier Times: Majority of Pennsylvanians favor liquor privatization, poll says
Bucks County Courier Times: With clock ticking on review, Corbett says he needs lottery contract answer
Daily Local News: Portfolio: State funding for "green" programs increases
Roxborough Review: DeLissio: Problems with state PPL contract must be addressed, heeded
Pittsburgh
Post-Gazette: FBI seizes documents from Pittsburgh police headquarters
Post-Gazette: DEP says air quality in PA is improving
Post-Gazette: Councilman to introduce 2 public safety bills in Pittsburgh city council
Post-Gazette: Privatizing PA alcohol sales broadly popular in poll
Early Returns: Toomey, Casey support VAWA
Early Returns: Allegheny Co. controller calls foul on move to amend state constitution
Early Returns: Ravenstahl kickoff Feb. 19
Early Returns: Poll: every demo favors LCB privatization
KDKA: New legislation hopes to prevent cardiac deaths
KDKA: Water authority officials issue warning about impersonators in Swissvale
Southwest
Observer-Reporter: Waynesburg Council appoints new mayor
Observer-Reporter: Canonsburg manager to miss borough
NEPA
AP: Corbett's transportation plan gets Senate hearing
AP: Corbett: School grants need liquor privatization
AP: Casey joins Toomey on Senate Finance Committee
AP: Pa. House sends child abuse bills to Senate
Pocono Record: Pike County looks to keep kids safe
Standard Speaker: Governor's grant program to fund Hayden Tower project
The Times Leader: Local races dominate ballot
The Times-Tribune: Key congressman endorses Corbett highway plan
The Times-Tribune: Former state rep's domestic assault trial expected to begin this week
The Times-Tribune: State to spend $14.7M training 290 troopers
Lehigh Valley
Pennsylvania Ave: Casey joins Toomey on coveted Finance Committee
Morning Call: Bethlehem Area plans more trimming on 2013-14 budget
Morning Call: Corbett: Replacing state stores will help schools
Morning Call: Vice President Joe Biden pushes 'rational gun safety' during Philadelphia roundtable
Reading Eagle: District wants tax hike higher than state limit
Reading Eagle: Daniel Boone tentatively OKs drastic cuts
Express Times: Pennsylvania liquor system sale could net Valley schools $49.7 million
Express Times: Ex-Rep. Joe Brennan forbidden from having contact with wife under settlement
Express Times: Bethlehem City Council candidate Bryan Callahan wants to continue bold decisions
Express Times: Corbett mum on the Paterno family report; Police investigating viral video of teen being whipped on Newark street – PM news links
Express Times: Pennsylvania attorney general being pressured to sign off on lottery privatization – A.M. news links
South Central
AP: Corbett: School grants need liquor privatization
AP: Corbett pushes budget plan before business leaders
AP: Casey joins Toomey on Senate Finance committee
Harrisburg Patriot-News: Attorney General Kathleen Kane defends pace of her lottery contract review
Harrisburg Patriot-News: Harrisburg City Council paves way for PennVest funding for sinkhole repairs
Harrisburg Patriot-News: Hearing? What hearing? Senate committee set to vote on constitutional amendment
Harrisburg Patriot-News: Gaming money, tourism grants on the table for Dauphin County Commissioners
Harrisburg Patriot-News: State court finds Lebanon judge didn't force conviction in child molestation case
Harrisburg Patriot-News: Gov. Tom Corbett chooses education as the best place for liquor system sale proceeds to go
Harrisburg Patriot-News: Former prosecutor Bill Tully is running for Dauphin County judge
Harrisburg Patriot-News: Gov. Tom Corbett is looking for Attorney General Kathleen Kane's answer on lottery contract
Harrisburg Patriot-News: Gov. Tom Corbett is mum on the Paterno family report
Harrisburg Patriot-News: Commonwealth Foundation releases poll showing voters support liquor privatization in Pennsylvania
Lebanon Daily News: Lebanon County braces for state budget impact
Lancaster Intelligencer/Era: Corbett's transportation plan gets Senate hearing
Lancaster Intelligencer/Era: 2 Philly traffic judges admit to fixing pals' tickets
North by Northwest
Williamsport Sun Gazette:  City planners act on variance issue
Williamsport Sun Gazette: Clinton County commissioners examine state budget plan
Opinions
PA Independent: Corbett's budget challenges lawmakers, but can they answer the call?
Reading Eagle: Jason Brudereck: Gun conversation should continue
Reading Eagle: Legislators not ready to get on board Corbett's budget
The Times Leader: It's your money, so have your say
The Times-Tribune: Judges set standards for public trust
Post-Gazette: A mind to retire: Fearing frailty, Pope Benedict puts the Church first
York Dispatch: Don't short-change Pa.'s community colleges
Blogs
John Hanger's Facts of the Day: The State of Our Energy Union is Stronger Than in 40 Years