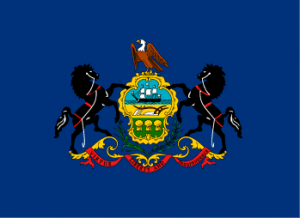 Eichelberger faces blowback, DCCC targets southeast Republicans, and the Pennsylvania winners of the Reed Awards.  Good morning politicos, here's the Playbook!
Eichelberger Comments on Inner City Schools Stirs Controversy: Senator Eichelberger faces strong blowback after his comments about "inner city" education. Senator Vincent Hughes and the Pa. Democratic Party have both called the comments racist.
Exclusive: DCCC Targets Meehan, Costello, and Fitzpatrick With Twitter Ads: The DCCC told PoliticsPA they will be running digital ads starting today in the the Pennsylvania 6th, 7th, and 8th Congressional Districts as part of a national ad campaign. They are focusing on the Congressmen refusing to hold town halls in the wake of them voting to repeal the ACA.
Pa. Consultants Honored by 2017 Reed Awards: The full list is out and multiple Pennsylvania consulting firms and campaigns were featured in this years list created by Campaigns and Elections Magazine.
Statewide
Capitolwire: Unemployment compensation battle continues in House budget hearing.
Capitolwire: While it has plenty of unknowns, Wolf's early retirement proposal would definitely hike PA's public pension debt.
Capitalwire: POINT OF ORDER: Whoopee, we're finally paying our public pension ARC!
Capitolwire: Election issues take precedence in Dept. of State budget hearing.
State House Sound Bites: Wolf admin officials deployed to defend the ACA
State House Sound Bites: PSERS director says lawmakers should pay more money into pensions
Philadelphia
NewsWorks: Wolf says money-saving budget will improve Pa. services
Inquirer: William Penn Foundation names new chief
Inquirer: Philly's municipal-ID plan on ice over privacy concerns
Inquirer: Should atheists deliver opening prayer in Pa. House of Representatives?
Inquirer: Philly activist is running to help lead Democrats nationally
SEPA
Pottstown Mercury: Calling event a 'political stunt,' Costello won't attend town hall in Phoenixville
Bucks County Courier Times: Brian Fitzpatrick will hear from residents with telephone town hall Thursday
Delco Times: Group comes together to support ACA: 'We cannot afford to reverse this process'
Pittsburgh
KDKA: Are Congressmen Ducking Their Constituents By Not Holding Town Hall Meetings?
Tribune Review: Pittsburgh doesn't release police camera video
Tribune Review: Peduto set for fight over East Liberty apartments while seeking help for its residents
Tribune Review: Attorney general says costs related to Kane reached $3.6M
Tribune Review: Work picks up on Tenaska's natural gas-fueled generating station in South Huntingdon
Post-Gazette: Toomey a no-show at protesters' town hall in Allentown
Post-Gazette: Council advances proposed limits on construction noise
Pittsburgh Business Times: FirstEnergy has no near-term plans to sell or deactivate plants
Pittsburgh Business Times: Pittsburgh mayor asks Lamar to remove sign from Mt. Washington
WESA: PA Constituents Call For Town Hall Meetings With Or Without Their Representatives
WESA: Former Peduto Supporter John Welch Hopes To Unseat The Mayor
KDKA: Pittsburgh's Latino Community Fearful Of President's Hardline Immigration Stance
KDKA: Pa. Lawmakers Tangle Over Allegations Of Voter Fraud
KDKA: Gov. Wolf Seeks Approval For Online Lottery Games
KDKA: Emergency Town Hall Held To Address Lead Poisoning Concerns In Homewood
Southwest
Beaver County Times: Ambridge district judge suspended from post over misconduct accusations
Beaver County Times: Rothfus bill would ease regulations on companies that burn waste coal to produce electricity
Beaver County Times: Beaver County officials looking to implement weights and measures registration fee
Observer-Reporter: Rover seeks eminent domain for pipeline project in Washington County
Observer-Reporter: With repeal in air, Wolf gives robust defense of health law
Altoona Mirror: Tyrone mayor won't seek re-election
Altoona Mirror: Senator looks to oust Eichelberger as chairman
Altoona Mirror: VA complaints include entrance, phone system
Johnstown Tribune-Democrat: State Supreme Court rules in Richland's favor in boundary battle
NEPA
Times-Tribune: Budget plan includes borrowing, bond sales to fund environmental programs
Times-Tribune: Pennsylvania Game Commission recruiting next class of wildlife conservation officers
Citizens Voice: W-B council considers revised debt restructuring plan
Citizens Voice: Hillary Clinton to speak at St. Patrick's Day Dinner in Scranton
Pocono Record: Philadelphia charter school gets 9,190 apps for 96 spots
South Central
Patriot News: Wolf, Casey enjoy high favorability ratings despite looming reelection challenges
Patriot News: Republicans won't repeal 'Obamacare' without viable replacement that protects the insured: Lou Barletta
Patriot News: Small group of protesters gather for Lou Barletta district event
Patriot News: 'He's ignoring his constituents': Volunteers swarm Toomey's Pa. offices to ask for meetings
Patriot News: Pa. Revenue secretary 'very confident' tax amnesty program will chip away at tax debt owed to state
Lehigh Valley
Morning Call: Tom Muller vows to make Cedarbrook top priority in final year
Morning Call: Easton council approves comprehensive plan
Morning Call: Pa. budget questions answered in Capitol and on internet
Reading Eagle: Terry Madonna talks about lessons learned from 2016 election polls
Reading Eagle: Reading School Board member Eddie Moran seeking re-election
North by Northwest
Centre Daily Times: Penn State graduate assistants file for union representation
Erie Times-News: Tautin promoted to Meadville police chief
Erie Times-News: Erie demonstrators show support for immigrants
Erie Times-News: Democrat to challenge incumbent Dahlkemper in primary
Erie Times-News: Erie resident Michael J. Bush plans mayoral run as third-party candidate
Opinion
Tribune Review: School funding shift: No cure for ailing taxpayers
Delco Times: Editorial: Time is now to fix redistricting mess
Patriot News: Don't want to pay for State Police protection? Regionalize, instead: Editorial
Patriot News: Here's how Germany is shaping Pa.'s energy future: T. Boone Pickens
Lancaster Online: Municipalities need to take a serious look at affordable housing options
Daily News: Byko: On soda tax, Kenney's the master distractor
Inquirer: Inquirer Editorial: Stop tinkering with how liquor is sold and sell the State Stores