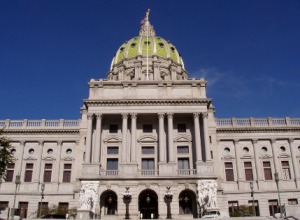 Corbett defers on Medicaid for now, Wagner catches a break, and Bloomberg's PAC is back on TV in Pa. Good morning politicos, here's the Buzz.
Corbett: No Medicaid Decision After Meeting with Sebelius: Gov. Tom Corbett said he still has questions after meeting with Health and Human Services Secretary Kathleen Sebelius. The two discussed the possibility of expanding Medicaid in Pa. under the Affordable Care Act.
Bloomberg PAC Up in PA with new Ad (With Video): NYC Mayor Mike Bloomberg's gun violence PAC will remain on TV, this week with an ad that highlights a victim whose killer purchased a gun without a background check.
Judge Rules Wagner Can Use His $300K Statewide Campaign Cash: Jack Wagner can use every dime of his statewide campaign cash in the Pittsburgh mayoral race, a judge ruled Wednesday.
Statewide
State House Sound Bites: Corbett warns Senate: finish liquor by July
State House Sound Bites: No progress on Medicaid after meeting, Corbett says
PA Independent: Corbett aiming for special deal on PA Medicaid expansion
StateImpactPA: DEP Unveils More Details About Marcellus Radiation Study
StateImpactPA: Businessman Who Paid for Corbett's Yacht Vacation Will Join Him On South American Trade Mission
Capitolwire: What will the Gov have to do to pass liquor bill through Senate?
Capitolwire: Labor union pushes back against Corbett plan to transform PA's health centers system
Capitolwire: PA appears stuck with trying to make the best of bad Obamacare situation
Capitolwire: Gov tells lawmakers, donors that liquor privatization's vital to his re-election
Capitolwire: Lawyer advocating removal of limits on child sex abuse civil cases under fire from lawmakers
Philadelphia
Philly.com: Grand jury investigates DRPA spending
Philly.com: Schiavo controversy returns to Pa., along with Sarah Palin
Philly.com: Fired Arcadia president on being 'cut off,' barred from campus
Philly.com: Penn investigates doctor for inappropriate stents
Philly.com: What NRA's 'School Shield' would cost
Philly.com: NRA pushes as states weigh school guns
Philly.com: Gosnell lawyer says clinic conditions exaggerated
Philly.com: Pa. pol proposes online registration
Philly.com: Colbert Busch candidacy concerns GOP
Philly.com: Nutter's team shuffled, mayor seeks more revenue
Philly.com: The rush is on to replace U.S. Rep. Allyson Schwartz in Congress
Heard in the Hall: Shuffle In Nutter's Team As Mayor Seeks More Revenue
Heard in the Hall: Best bet in City Hall today? That Mayor Nutter will veto the paid sick-leave bill
PhillyClout: Nutter announces shakeup of top collections officials
PhillyClout: Controller: City dishes out $11 million more in workers' comp claims
CapitolInq: Lautenberg: RU's Rice shows need for anti-bullying laws
WHYY Newsworks: Pa. Medicaid expansion up in the air
WHYY Newsworks: Tempers flare in Gosnell trial
WHYY Newsworks: Virtual library troubleshooters will likely be busy at Suburban Station
WHYY Newsworks: Jokers run for Schwartz's Congressional seat
WHYY Newsworks: New chief revenue collector appointed in Philadelphia
WHYY Newsworks: City Council asks where school funding will come from
WHYY Newsworks: Dispelling misconceptions, presenting realities of Affordable Care Act
WHYY Newsworks: Property upkeep and combating homelessness are top priorities for Wilmington's west side/center city residents
City Paper (Weekly, Wednesday): Former City Council hopeful Damon Roberts suspended from law practice
Phillynow.com: Nutter's Paid Sick Leave Decision is Nigh
KYW Newsradio: Developer Vying For Philadelphia Casino License Says Resort Would Create About 6,000 Jobs
KYW Newsradio: Cherry Hill Mayor Working To Prevent Development of Woodcrest Golf Course Land
KYW Newsradio: US Rail Officials Seek Public Guidance on NE Corridor Long-Range Planning
SEPA
Pottstown Mercury: Spring City police chief injured in assault
Pottstown Mercury: Spring-Ford Area School Board primary races appear set
Pottstown Mercury: Pa. attorney general warns about health care scam
Delco Daily Times: Mayor: Chester becoming 'better place'
Delco Daily Times: Leach considers making run for Congress in 13th District
Delco Daily Times: Chester Council, residents question Mayor Linder's demotions in police department
Delco Daily Times: Council to hold special meeting today
Montgomery Media: State Sen. Daylin Leach throws hat in congressional ring
Daily Local News: Corbett plan seeks to pump cash into ailing infrastructure
Pittsburgh
Tribune Review: Rothfus and two key House leaders pressure VA for Pittsburgh Legionnaires' records and emails
Tribune Review: Drop in natural gas prices hits state's drilling fee revenue
Tribune Review: Pittsburgh councilman throws support behind Bill Peduto for mayor
Tribune Review: Pittsburgh mayoral candidate Richardson charged with DUI
WTAE: Allegheny exec nixing advance resignation letters
WTAE: Pittsburgh mayoral candidate believes DUI arrest was setup
Post-Gazette: Judge throws out all campaign finance limits in Pittsburgh mayoral race
Southwest
Beaver County Times: Superior Court hears Beaver County appeals
Beaver County Times: Darlington officials frustrated by vandalism to polo fields
Beaver County Times: Appeals court to rule on wastewater dumping case
Beaver County Times: FirstEnergy: Little Blue cleanup nearly 20 years away
Beaver County Times: Riverside seeks grant to expand Pre-K Counts Program
Observer-Reporter:
 Judge promises quick ruling on jury commissioners
Observer-Reporter:
 Manning to remain on ballot for Washington council
Altoona Mirror: Corbett gains pension reform support
Altoona Mirror: Bedford's high fatal rate unclear
Johnstown Tribune-Democrat: State closes day care after duct tape report
NEPA
Times-Tribune: 2012 GOP PA-112 nominee Ray Nearhood dies nearly 8 months after auto crash
Times-Tribune: Appeals court cases will decide ballot questions
Times-Tribune: Democratic panel hears from liquor privatization foes
Citizens Voice: Money needed to fight NEPA crime
Citizens Voice: Mellow pension appeal hearing on hold
News Item: Prosecutors always 'on alert'
News Item: 'Major announcement' today for Central Susquehanna Valley Thruway
Standard Speaker: Hazleton Area board unfazed by initial $6M budget deficit
Standard Speaker: Luzerne Co. council confirms new budget head
Times Leader: Police chief: Discretion used in citing parking lot prowlers
Times Leader: Counties' lawyers argue baseball dispute in court
Times Leader: Wilkes-Barre Area looks for savings
Times Leader: Man's true identity questioned by county council
Times Leader: Shickshinny mayor threatens parking ordinance veto
Lehigh Valley
Pennsylvania Ave.: Corbett unswayed on Medicaid expansion after Sebelius meeting
Morning Call: Residents angry about Allentown water, sewer lease confront council
Morning Call: County priorities shifting away from hotel tax audits
Reading Eagle: Reading mayor would make charter complaints public far sooner
Reading Eagle: Latino business leaders meet with lawmakers
Reading Eagle: Art draws Pennsylvania's first lady to Reading
Reading Eagle: Arm educators for safer schools, NRA-funded report says
Express-Times: Pen Argyl superintendent calls memo limiting police at Wind Gap Middle School a 'safety risk'
Express-Times: Democrats Heckman, Dellatore to battle it out in Nazareth's Ward II council race
Express-Times: Allentown city council schedules talks on $220 million water lease plan at raucous meeting
South Central
AP: Pa.: No fine after 2012 compressor station blast
AP: Corbett raises issue of private Medicaid plans
AP: Prosecutor: Pa. hospitals overcharged Medicare
AP: Judge vows quick ruling on Pa. jury commissioners
Roxbury News: Mayor Linda D. Thompson: "We have a campaign treasurer"
Roxbury News: Governor Corbett traveling to Brazil and Chile
Roxbury News: Harrisburg Mayor Linda D. Thompson on her re-election campaign. "People have been demonizing people in my camp."
Roxbury News: Governor Corbett Meets with HHS Secretary Kathleen Sebelius
Harrisburg Patriot News: Harrisburg Mayor Linda Thompson: Scumbag scandal is 'behind me'
Harrisburg Patriot News: Linda Thompson says her campaign is 'very organized and very strong'
Harrisburg Patriot News: Gov. Tom Corbett releases traveling companions participating in South American trade mission
Harrisburg Patriot News: Gas prices are 34 cents a gallon lower than this time last year
Harrisburg Patriot News: Gov. Corbett to lead trade mission to Brazil and Chile to promote Pennsylvania businesses
Harrisburg Patriot News: History of Pennsylvania governors and their trade missions
Harrisburg Patriot News: Gov. Tom Corbett will be joined by businessman John Moran on trade mission
York Dispatch: York City Council approves new solicitor
Lancaster Intelligencer: Pitts, Toomey back Sugar Reform Act
North by Northwest
Williamsport Sun Gazette: Mayor's capital project plan adds to city debt
Williamsport Sun Gazette: Bills represent next step in natural gas expansion in region
Opinions
Lancaster New Era: Casey's flip-flop on gay marriage
Lancaster Intelligencer: No laughing matter
Carlisle Sentinel: Our View: Paved with good intentions
Harrisburg Patriot News: Seniors will pay the price for Lottery privatization: Editorial
Lebanon Daily News: Trotting out the 'T' word — taxes — and predicting the likely result
Times-Tribune: Iran, N. Korea, Syria, NRA
Times-Tribune: State lets CHIP decline: Kids don't frack
Times Leader: City must give LAG ultimatum
Blogs
Keystone Politics: Yes, Daylin Leach Running for Congress Is Good for PA Progressives
Keystone Politics: Is PA's Most Progressive State Senator Running for U.S. Congress Good or Bad for PA Progressives?
Keystone Politics: Corbett Not Yet Ready to Ask For Larded-Up Private Alternative to Medicaid Expansion
Keystone Politics: Patrick Dowd Endorses Bill Peduto for #PGHMayor
Keystone Politics: A Symbiotic Relationship Between Fracking and Renewables