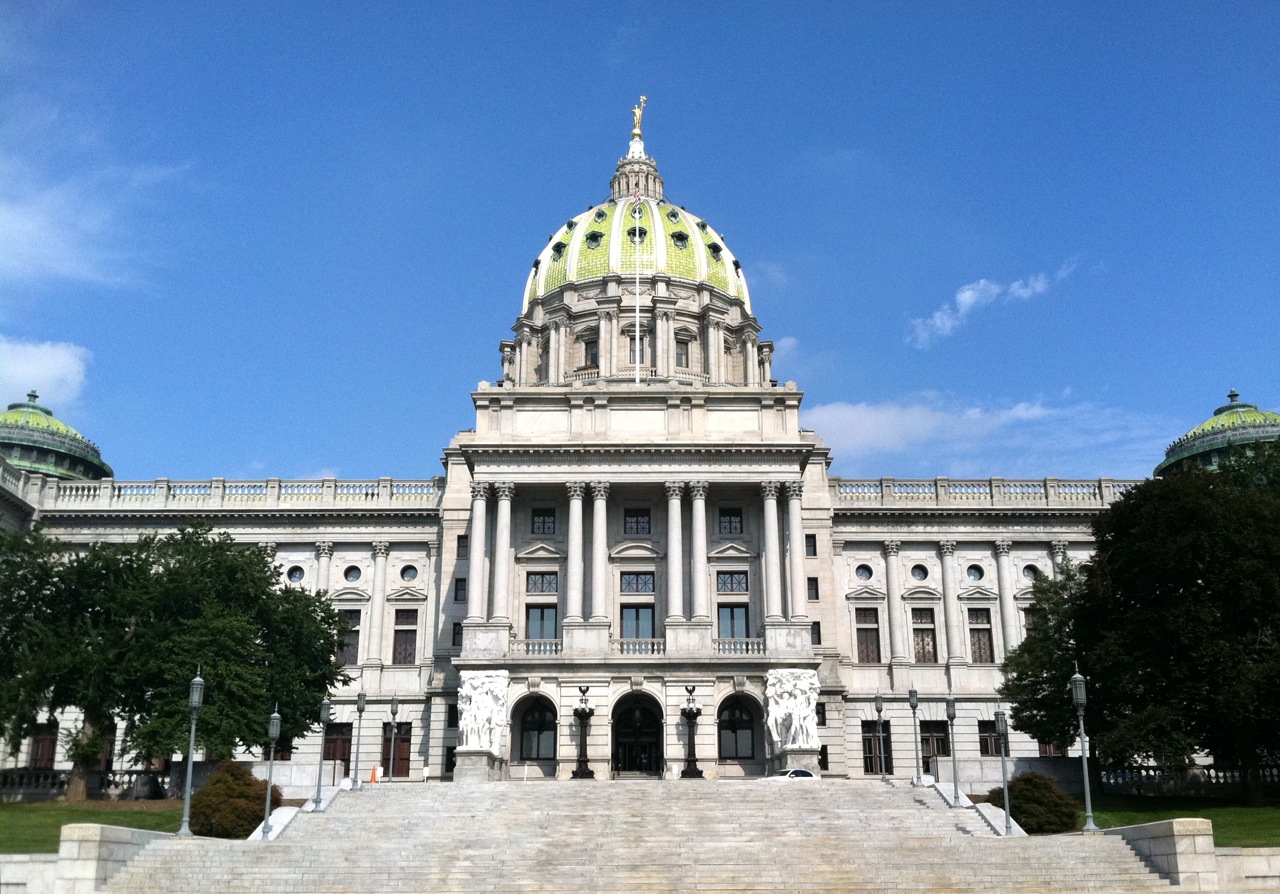 A huge announcement from Joe Sestak clarifies the 2014 Guv field, another candidate pops up to challenge Mike Fitzpatrick, and the latest from the battle in Pittsburgh. Good morning politicos, here's the Buzz.
Sestak Nixes Guv, Eyes Senate (With Video): Forget the Governor's race. Former Rep. Joe Sestak said Tuesday he's looking at a 2016 rematch with Sen. Pat Toomey.
Dems for Guv Celebrate Sestak Exit: The Democrats running for Governor breathed a collective sigh of relief Tuesday as former Rep. Joe Sestak confirmed that he's running for Senate instead. But who benefits the most?
Second Dem Emerges Against Fitzpatrick in PA-8: A second Democratic challenger has emerged in the race to take on Rep. Mike Fitzpatrick in 2014. Shaughnessy Naughton, a former scientist and publisher announced her candidacy on today.
Wagner's New TV Ad a Family Affair (With Video): Pittsburgh Mayoral Candidate Jack Wagner is out with a new TV starring his daughter. He wants to reach out to younger voters.
Pittsburgh Mayoral Candidate Jake Wheatley Releases Video Ad (With Video): Longshot mayoral candidate State Rep. Jake Wheatley touts his military service in a positive web-only ad.
ABC27 Poll: Miller 30, Papenfuse 30, Thompson 13: A new ABC27 poll shows Harrisburg Mayor Linda Thompson is in trouble and either of her top two opponents could replace her.
Statewide
Capitolwire: Senate Democrats criticize move toward graduation tests
Capitolwire: Lawmakers move bill to help fill funding hole left by feds in PA's UC call centers
Capitolwire: Beer interests intertwined in liquor debate
Capitolwire: POINT OF ORDER: Act 120 can't be the only answer to PA's pension crisis
State Impact: Poll Shows Support for a Drilling Moratorium in Pennsylvania
PA Independent: Groups on the right and left oppose Common Core standards in PA
PA Independent: WATCHBLOG: Despite decline in violent crime, shootings by Philly cops way up in 2012
State House Soundbytes: Second trio of liquor hearings: one big wish list
State House Soundbytes: House committee OKs raising judges' mandatory retirement age
AP: Sestak: Not interested in Corbett's job, but maybe Toomey's
Philadelphia
Inquirer: Convicted Pa. abortion doctor gets life in prison
Inquirer: Traffic charges against Moriarty dismissed
Inquirer: Radnor panel rejects Villanova expansion
Inquirer: Camilla Hall undergoing $19M renovation
PhillyClout: Blondell Reynolds Brown's campaign treasurer sentenced to one year in federal prison
AP: Dispute over Pa. gas drilling fees
WHYY Newsworks: Building height restriction could go up 15 feet in Philly's Old City
WHYY Newsworks: Fruit trade with Chile to sweeten with Philly port improvements, Corbett vows
WHYY Newsworks: Protesters plan rally targeting MSNBC at Comcast shareholder meeting
SEPA
Phillyburbs: DA: DeGennaro targeted before his murder because of pot sales
Phillyburbs: Monto GOP asks court to oust voter services acting director
Phillyburbs: MclIhinney rips into liquor privatization 'liars'
Phillyburbs: Police investigate alleged threats against Pennsbury school board members
Delco Daily Times: Tonight! Battle of Beaver Valley as Concord supers set to discuss controversial development plan
Montgomery Media: ELECTION 2013: Wissahickon School Board candidates share views on issues facing district
Montgomery Media: VIDEO: Cyril Burke Jr. sworn in to Norristown council
Pottstown Mercury: 2 seek GOP nod for West Vincent supervisor
Pittsburgh
Post-Gazette: Ravenstahl attorney: Contractor documents for home renovation given to federal prosecutors
Post-Gazette: Allegheny Common Pleas Court candidates rated by bar
Post-Gazette: Pittsburgh city councilman pushes tax relief
Post-Gazette: Wagner goes positive in newest Pittsburgh campaign ad
Post-Gazette: Pennsylvania Senate names Pittsburgh's 31st Street Bridge for veteran killed in Vietnam
Post-Gazette: Sestak hints at 2016 Senate run against Toomey
Post-Gazette: Pennsylvania senators hear debate on liquor privatization
Post-Gazette: State senator to rework farm photography proposal
Post-Gazette: Corbett administration wants federal government to reconsider chances to PA Fair Care program
Tribune-Review: Records show Ravenstahl spent $161K to aid Peduto foes
Tribune-Review: Incumbent defends seat vs. 2 challengers in Pittsburgh City Council race
KDKS: Orie Melvin Re-Sentences
KDKS: Highway Safety Board Recommends Reducing Blood Alcohol Driving Limit
KDKS: Mayor's Attorney Says Work on House is on the Up and Up
KDKS: Peduto Leading Wagner in Newest Poll
Early Returns: Wagner seeks fist bump
Early Returns: Sestak eyes Senate run, not guv
Early Returns: Barbender behind Ravenstahl ads?
Southwest
Beaver County Times: No tax increase for Moon
Observer-Reporter: Waynesburg gets new police chief and borough manager
AP: Philly abortion doctor guilty in 3 babies' deaths
Johnstown Tribune-Democrat: City candidate denies link to ad
South Central
Carlisle Sentinel: South Middleton School Board majority turns down a 2013-14 tax increase
Patriot News: Following the money in Harrisburg's mayoral race
Patriot News: PCN will provide live coverage of Gov. George Leader's funeral
Patriot News: Primary focus: Candidates want to preserve rural character of Warrington Township
Patriot News: Sestak announces early Senate campaign, solidifies Democratic gubernatorial field: analysis
Patriot News: Primary focus: Teachers' contract looms for candidates vying for positions on Annville-Cleona School Board
Patriot News: Former Harrisburg mayoral candidate Jason Smith supports Eric Papenfuse from afar, in Mechanicsburg
Patriot News: Primary focus: Eight candidates seeking Republican nomination for Palmyra Borough Council
Patriot News: Live video: Editorial board meeting with former Governor Ed Rendell
York Daily Record : Polling place change in Shrewsbury Township approved
York Daily Record: Rep. Seth Grove to host Paradise Township town hall meeting Thursday
York Daily Record: 95th state House candidates debate tonight at York College
York Dispatch: West Shore teachers call board's pay freeze request unreasonable
York Dispatch: City council candidate wants to lower taxes
Lebanon Daily News: Lebanon Valley Economic Development Corp. names new president
Roxbury News: Eric Papenfuse: Defacing campaign signs
NEPA
Times Leader: Hanover Twp. pays off tax anticipation note early
Times Leader: Dallas Schools reconsider bus pact
Times Leader: County is urged to probe the LCTA
Times Tribune: Mayoral candidates offer ideas for public safety
Times Tribune: Lisi fires repeated barbs at Lewis in GOP mayoral debate
Citizens Voice: Urban accuses Griffith of illegal recording
Citizens Voice: County council wants to amend budget
Pocono Record: LM board candidates share views on district, its future
Pocono Record: Stroudsburg School Board might dip into fund to fix deficit
Pocono Record: Write-in candidate to fill empty spot
Pocono Record: DV weighs tax hike
Pocono Record: 7 municipalities to get recycling grants
Lehigh Valley
Morning Call: Callahan has big fundraising lead in Northampton County executive race
Morning Call: Corbett's education secretary said to be leaving
Morning Call: Pennsylvania getting swept into national 'Common Core' education debate
Morning Call: Northampton County judge election: Thousands raised amid uncertainty
Express Times: Easton Main Street Initiative receives national recognition – UPDATE Express Times: Lehigh, Northampton county executive candidates talk jobs, economy WFMZ: Daniel Boone Area School Board votes to close Amity Primary Center
WFMZ: Lehigh County executive candidates debate on WFMZ
Reading Eagle: Schuylkill Valley eyes higher tax
Reading Eagle: Twin Valley trims $1 million, approves tentative budget
North by Northwest
Sun-Gazette: Montoursville looking at modest tax increase
Centre Daily Times: New polling places for some Centre County voters
Centre Daily Times: Police: Penns Valley school board elections focuses on investigation
Erie Times Campaign '13: Dahlkemper "mobile headquarters" heads to Sara's restaurant
Opinions
Post-Gazette: Macey in District 9: The county councilman is the Dems' best choice
Post-Gazette: Two for the GOP: Baker and Kress rate county councilman nominations
Blogs
Keystone Politics: Philly Homestead Exemption Will Raise Taxes on Actual Poor People to Give House-Rich Homeowners a Tax Cut
Keystone Politics: Shorter Schwartz to Sestak: "So Pumped You're Not Running for #PAGov"
Jon Geeting: Lamont McClure Touts Rightwing No-Tax Pledge
Jon Geeting: Bike Lanes Are Good for Business
2 Political Junkies: More Peduto Swiftboating From Luke Ravenstahl