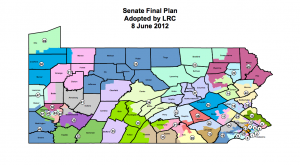 Good morning politicos, here's the Buzz. The redistricting commission passed its final maps, both GOP-drawn; Dems endorsed gay marriage at their state committee meeting in King of Prussia; and a switcheroo looks likely in the race for Sen. John Pippy's seat.
And we just got word that Mitt Romney is heading to PA on Saturday, June 16. The visit(s) will be part of his "Believe in America: Every State Counts" bus tour going through Iowa, Michigan, New Hampshire, Ohio, PA and Wisconsin. Barack Obama will be in Philly on Tuesday.
McCord Stands Out; Dems Say 'I do' to Gay Marriage: This weekend's PA Dems state committee meeting was a mix of speeches and progressive platforms, with Sen. Bob Casey and Treasurer Rob McCord addressing the crowd and the party passing a pro-gay marriage resolution.
Mass Gov. Patrick Rallies PA Dems: PA Dems got Friday night what they had in surplus in 2008. Mass. Gov. Deval Patrick delivered a rousing speech that brought party leaders to their feet as he implored them to boldy campaign for President Obama and the party. He also talked about Obama's recent remark about the private sector.
Redistricting Commission Passes GOP Maps: The panel charged with redrawing state House and Senate maps passed its final plan Friday, voting 4-1 to in favor of those submitted by Republican members.
6/8 Ups & Downs: Some polls guide this week's Ups & Downs, lots of wrangling in Harrisburg, and the indispensible Ed Rendell.
Santorum's Back, With a Brand New PAC: Former PA Senator and Republican Presidential candidate Rick Santorum announced Friday the launching of a fundraising group called Patriot Voices. This group largely carries on the fiscal and social conservative message he touted during the Republican primary season.
GOP Launches PR Blitz Against Medical Device Tax: House Republicans were joined by three-dozen Democrats to repeal part of the health care law: a tax on medical devices. The GOP has launched a full court press, saying opposition to the tax illustrates the illegitimacy of all of Obamacare. President Obama has threatened to veto the repeal.
Eaton Touts New Five Point Plan: Missa Eaton, a psychology professor at PSU Shenango and Rep. Mike Kelly's Democratic opponent, took to the road Thursday to explain what she'd do in Congress. She toured several restaurants in the district to unveil her Five Point Plan.
Critz Keeps Up Medicare Strategy, Rothfus Fires Back: Rep. Mark Critz is still hammering the Medicare drum. Once in a blue moon can a politician find a single issue that can carry him or her through both a primary and a general election with equal efficacy. But after Keith Rothfus announced he'd be speaking at a Tea Party Express event in Pittsburgh Thursday evening, Critz went on the attack.
Legislative Election Updates
SD-37: The Democratic candidate in the race to replace Sen. John Pippy (R-Allegheny) is write-in winner Greg Parks. Or at least it is for now. Sen. Daylin Leach, the man charged with leading the Senate Dems' campaign efforts, said Friday at state committee that the party planned to sub in another candidate (TBD) in Parks' stead. Local Dem sources say it's likely Rep. Matt Smith, who took office in 2006. The Republican candidate is businessman Raja.
SD-40: Former U.S. Rep. Melissa Hart may not be a shoo-in for her former Senate seat after all. (the one recently vacated by Jane Orie and scheduled for an Aug. 7 special election). The final PA Senate map out of the LRC basically renumbers the GOP-leaning 40th district and sticks it with Sen. Jim Ferlo (D-Allegheny), meaning a Republican candidate this cycle would have a real shot to win again in 2014. That's why, the Trib reports, state Rep. Randy Vulakovich has thrown his name in contention for the nomination. Hart is still the frontrunner, but no longer a sure bet.
HD-31: Anne Chapman, the Republican seeking to unseat Rep. Steve Santarsiero (D-Bucks), announced her support of pension reform in the vein of SB 1540 or HBs 551 or 552. "I support the recent legislation introduced in the Pennsylvania House and Senate to move all new state worker hires and all new teacher hires to 401K style retirement accounts," she said. Furthermore, "I will work to ban strikes for all public sector employees and to reform their health care plans.  I propose that we require all public employees, including teachers, to pay 25% of the cost of their health care premiums just like the taxpayers who pay the bills for our state and school district budgets currently do to."
HD-89: Susan Spicka, the Dem running against Rep. Rob Kauffman (R-Franklin) has opened her campaign HQ in Shippensburg. Keystone Politics has the story.
HD-120: Pittston Politics says the political environment could be right for Rep. Phyllis Mundy (D-Luzerne) to have a tough race from GOP challenger Aaron Kaufer. Writer Joe Valenti notes that 48 percent of voters opposed Mundy in 2010.
HD-152: Ron Kolla has a great set of pipes. The man challenging Rep. Tom Murt (R-Montco) sang the national anthem at Democratic state committee this weekend. "If you campaign half as good as you sing, you're going to get 90 percent," quipped party Chair Jim Burn.
National
AP: GOP mood toward Romney prospects brightens
Harrisburg Patriot News: President Barack Obama faces cracks in Democratic base
Harrisburg Patriot News: Tea party activists say they'll abstain from voting on Election Day
Politico Playbook: "Swing-state Economies: Ohio's job growth doesn't guarantee an Obama win," by AP's Charles Babington in Columbus
Politico Playbook: The President's week ahead
Politico: Santorum: No background documents for veep
Politico: Rick Santorum has not released delegates
National Journal:Santorum: 'I'll Answer the Call' From Romney on VP, But it Hasn't Come Yet
National Journal Hotline: A Walker Landslide in Wisconsin
Real Clear Politics: The Media Doesn't Understand State of Race
Wall Street Journal: Obama Urges Congress to Back Education Package
USA Today: Rick Santorum forms group to rally conservatives
The Caucus: Santorum Ready for Convention Battle with Paul
New York Times: Campaigns Blitz 9 Swing States in a Battle of Ads
New York Times: Demographic Shifts in Key States Could Aid Obama in Fall
The Hill: Santorum fears Ron Paul delegates 'looking for a platform fight'
Washington Post: Will Philadelphia's experiment in eradicating 'food deserts' work?
Statewide
Tribune Review: Casey, Toomey enjoy rare cross-party bond & respect
AP: Fines proposed for ignoring Pa. flooding roadblock
AP: Pa. may pay for cleanup of Shell refinery site
AP: Panel to meet again on Pa. redistricting plan
AP: Pa. House vote to privatize liquor sales promised
AP: Democrats pick ex-Turzai foe Sharon Brown to run for Jane Orie's Pittsburgh-area seat
Capital Ideas: Corbett: "We weren't being secret" about $1.7B nat.gas tax credit
PA Independent: PA to borrow $4.5B to pay off fed unemployment debt, change eligibility
PA Independent: PA: New district maps moving to Supreme Court
StateImpactPA: "Exelon Intent on Changing with Power Market"
StateImpactPA: Drill Bits: Chesapeake Sells Off Assets Before Shareholder Meeting
Capitolwire: DCED Secretary Walker says state not paying for Shell site clean-up. Senator, staff say he told them otherwise
Capitolwire: Legislative commission sets district lines. Now Supreme Court may review
Capitolwire: Changes in Dauphin, Allegheny, Clearfield in final reapportionment map to be voted today
Capitolwire: Group says don't pay Shell for other companies new jobs
Capitolwire: Taxpayers, not company leaving for North Carolina, to pay to clean up site for Shell
Capitolwire:  Budget negotiations focusing on overall spending number
Statehouse Soundbites: Corbett: Spending is too high
Statehouse Soundbites: Payday lending regulations head to Senate
Philadelphia
Inquirer: Casey pushes for Social Security reform to prevent another Tacony dungeon case
Inquirer: As Pa. budget deadline nears, GOP legislators vow action on thorny school issues
Inquirer: GOP leader blasts SEPTA for snubbing natural gas buses
Inquirer: Showdown vote promised on Pa. liquor system – with beer in the mix
Inquirer: Harrisburg's summer rush: long-pushed bill to bring back payday lending stores gets another try
Inquirer: At 94, former Gov. George Leader forgotten, not gone
Philly.com: Price tag for Shell deal gets bigger with cleanup
Philadelphia Tribune: Racial tensions divide city GOP
Philadelphia Tribune: City property tax reform in limbo
WHYY NewsWorks: Hundreds rally in Phila to support 'religious freedom'
WHYY NewsWorks: Second Pa. redistricting map passes
WHYY NewsWorks: Phila considers tracking energy use of large buildings
SEPA
Delco Daily Times: Dem candidate: poll says 7th district is up for grabs
Delco Daily Times: Housing, jobs top priority for helping suburbs thrive
Pittsburgh
Tribune-Review: Corbett's $1.7B tax pledge banks on jobs
Tribune-Review: No clear GOP nominee for the 40th district
Tribune-Review: Will budget pain force local police mergers off back burner?
Post-Gazette: Pennsylvania Budget: Main proposals pitched by Corbett, Senate are $500 million apart
Post-Gazette: Pennsylvania's new legislative boundaries put Jim Ferlo's district in jeopardy
Post-Gazette: Rep. Mike Turzai has new plan to privatize state liquor stores
Post-Gazette: Allegheny loses 1 House, Senate seat in new redistricting map
Early Returns: Ferlo gets North Hills under new map
Early Returns: Corbett backs full liquor reform
Early Returns: Santorum's "Patriot Voices" nonprofit
KDKA: Gov. Corbett to Ask Legislature to Reduce Cyber School Funding
Southwest:
Beaver County Times: Critz hopes Medicare scare is Rothfus' Achilles' heel
Lehigh Valley
The Morning Call: Should the debt ceiling be increased again?
WFMZ: Pa. House vote to privatize liquor sales promised
WFMZ: Pa. House OKs changes to parking meter inspections
South Whitehall Patch: Hike Pa. Income Tax to Cut Property Tax?
South Whitehall Patch: How to Halt Pennsylvania's Pension Crisis?
South Whitehall Patch: Tell Us: Should Mitt Romney Pss on Pennsylvania?
South Whitehall Patch: Tea Party Candidate, Docs Blast 'Obamacare'
NEPA
Times Leader: Barletta toughens alien bill
Times Leader: Back flood insurance, Casey says
Times Leader: Recalling a friend
Times Tribune: 2014 reapportionment plan wins approval
Pittston Politics: Political climate may be "right" for Mundy challenger
Pittston Politics: Religious Freedom Rally turns out hundreds in Scranton
Pocono Record: Monroe County to get 2 senators, 3 representatives in final redistricting map
Pocono Record: Monroe County misses out on single Senate district in final redistricting plan
South Central
Harrisburg Patriot News: Pennsylvania senator wants to broaden state-related universities' disclosure requirements
Harrisburg Patriot News: Payday loans proposal in Pennsylvania Legislature draws fire and support
Harrisburg Patriot News: Pennsylvania lawmakers consider bill that would penalize drivers who ignore flooding roadblocks
Harrisburg Patriot News: Bill to privatize state liquor system expected to go to house vote next week
Harrisburg Patriot News: Commission approves legislative redistricting plan that puts Harrisburg, Perry County in same district
Lancaster Intelligencer/Era: Boundaries are redrawn for Pa. legislative seats
North by Northwest
Erie Times News: State may pay for cleanup of Shell refinery site
Courier Express: Clearfield County avoids being split into three election districts in second revision of reapportionment maps
Opinion
Times Leader Op-ed: Will eliminating retirement income send senior citizens back to chicken coops
Times Tribune Op-ed: State spending shrinks, revises program criteria
Times Tribune Editorial: Bail out flood insurance
Times Tribune Editorial: House to NRA: Sue our cities
Times Tribune Editorial: 'Reform' bill considers one side of ledger
Times Tribune Editorial: State should revive solar
Standard Speaker Editorial: Bill would correct charter schools' funding disparities
Standard Speaker Editorial: Shell tax credits call for guarantee
Daily Review Editorial: Flood insurance program needs reform
Daily Review Editorial: Don't put all the burden on workers
Pocono Record Editorial: The real welfare queens
Public Opinion Editorial: Are there better ways to stimulate Pa. economy?
Public Opinion Editorial: Let's get to the bottom of Susquehanna's problem
Patriot News Op-ed: Disdain for the law is embedded in Harrisburg's political culture
Harrisburg Patriot News Editorial: A bumpy ride: Gov. Corbett and legislature punting on transportation
Harrisburg Patriot News Op-ed: Shell tax credit is about more than jobs
Harrisburg Patriot News Editorial: Costly sideshow: Voter ID law is nothing but trouble
Harrisburg Patriot News Op-ed: The poor and state budget: Where will these people turn?
Lebanon Daily News Op-ed: Taxpayers need a life preserver now
Tribune-Review: The economy: The only solution
Tribune-Review: Addressing local needs
Tribune-Review: We must be able to compromise
Tribune-Review: Still lost on the Law of the Sea Treaty
Tribune-Review: Election 2012: A referendum on capitalism
Tribune-Review: Clinging to the Constitution
Post-Gazette: Sensible Limits: A House bill would reform charter school funding
Post-Gazette: Shell game: Make the tax credits pay off with a tight contract
Post-Gazette: Time to clean house: Before we pass new laws, let's get rid of some old ones
Observer-Reporter: Pa. law without teeth
Observer-Reporter: Greatest changes are barely noticed
Somerset Daily American: Difficult decisions
Altoona Mirror: GSA bonuses galling
Blogs
Casablanca Pa: Double Standards, Philly Style
ACLU: Voter Suppression is an LGBT Rights Issue–Just Ask Asher
Keystone State Education Coalition: Corbett To Ask Legislature To Reduce Cyber School Funding
Keystone State Education Coalition: Pennsylvanians Opposed to Vouchers Letter to all Members of the PA House of Representatives June 4, 2012
The PA Budget and Policy Center: Cracker Plant Tax Credit Expensive for Taxpayers While Promising Few Permanent Jobs
Jon Geeting: Not Worth It: Hanover Twp Suing Allentown NIZ For *0.5%* of Their Annual Revenue
Jon Geeting: "Whitehall's Own Redevelopment Study Cites Allentown Hockey Arena as a Future Economic Driver for Whitehall"
NEPArtisan: Scranton Commuter Tax Solution – Toll Booths!
PA Water Cooler: New PA House and Senate Maps are out
The Pennsylvania Progressive: PA Dems Endorse Marriage Equality, Women's Rights
Keystone Politics: Maria Quinones-Sanchez's Zoning Changes Will Make Philly Rents Higher
Keystone Politics: PA-12: Mark Critz Hits Keith Rothfus on RyanCare
Keystone Politics: GOP, Altmire Citing "Not Credible" Study to Attack Medical Device Tax
Keystone Politics: Susan Spicka to Open Pennsylvania's Funnest Campaign Office
Keystone Conservative: Corbett Talks about The Budget and the Growing Pension Crisis
Keystone Conservative: Smith calls on Casey to "Support Common Sense Labor Reform"