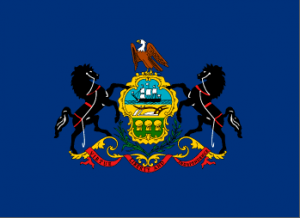 Clinton leads Trump in the newest poll, PA Society will have to move from the Waldorf and we examine the GOP voter registration surge. Good morning politicos, here's the Playbook!
Behind the GOP Voter Surge in PA: The shift is part of a trend but not the one you may suspect.
BREAKING: PA Society Will Have to Move: The Waldorf Astoria is scheduled to be renovated in 2017.
PPP Poll: Clinton 46% Trump 42%: The Democratic nominee has moved into the lead in the Keystone State.
PA-Sen: PPP Poll: Toomey 40% McGinty 39%: Pennsylvanians also want a hearing for Merrick Garland.
PA-BGT: To Be or Not to Be?: Budget negotiators are running out of time.
PA-15: Dent Plans on Skipping the Republican National Convention: The Congressmen joins the ever growing list of officials refusing to attend the gathering.
PA-Sen: Dem Super PAC Reserves $9 Million In Airtime to Aid McGinty: Senate Majority PAC is committing even more resources to the Keystone State.
PA Officials React to Supreme Court Abortion Decision: A range of Pennsylvania's elected officials respond to the Court's 5 to 3 decision.
Democratic Platform Committee Drafts Language For Convention: The Democratic Platform Committee meets in St. Louis to discuss details of the party platform.
Statewide
PLSReporter: Natural gas minimum royalty legislation advance to House floor
PLSReporter: House Republican cadre calls for more transparency, fiscal responsibility in budget process
PLSReporter: Groups come together to rally against rumored state budget
PLS Reporter: Sunday night negotiations could mean a big Monday for state budget
Capitolwire: No budget agreement, but House GOP teeing up a budget proposal for consideration Monday
Capitolwire: Still no budget deal as leaders meet Sunday evening in the state Capitol
StateImpactPA: PA House considering private development in state parks
Philadelphia
Philadelphia Business Journal: Fattah stands to lose Poconos home, cash in criminal forfeiture
KYW: Thousands Of Philadelphia Homeowners Could Get Higher Tax Bill
WHYY Newsworks: Pa. advocates concerned about lawmakers' budget priorities
Inquirer: AFL-CIO takes on Trump in Pa, other swing states
Inquirer: Pro-Hillary super PAC to buy $10.5 million in TV time in PA
Inquirer: Porngate justice's replacement approved
Inquirer: Jury orders Phila. schools to pay firm $2.3 million in bias suit
SEPA
Bucks County Courier-Times: Lawmakers inch closer to budget deal in final week
Bucks County Courier-Times: Clinton campaign opens Bucks County office in Doylestown
Pottstown Mercury: No Pottstown schools property tax hike for second straight year
Pottstown Mercury: Lawmakers seek Pennsylvania budget deal as deadline looms
Pittsburgh
Tribune Review: Pitt Cancer Institute hopes to play key role in Moonshot initiative
Tribune Review: Penn Hills OKs 2016-17 budget, cyber charter school for elementary students
Tribune Review: Pittsburgh Public Schools board to meet Wednesday about superintendent controversy
Post-Gazette: Passport, Social Security card, driver's license… Bridge ID?
Post-Gazette: Peduto's office renovation costs stir controversy
Business Journal: Everest raises $100M fund to invest in renewable energy
WESA: National Forest Service Turns Focus To Urban Settings, Like Pittsburgh
Southwest
Beaver County Times: Chippewa township leaders hope PennDOT project heeds traffic concerns
Beaver County Times: Local NAACP chapter still working to educate, train workforce for Shell employment
Observer Reporter: Summer 'bagged lunch' program helping Greene County kids
Altoona Mirror: C-K tax shift raising questions
Tribune-Democrat: Ebensburg borough passes on lease of athletic field
NEPA
Times Leader: Stephen Stahl ordered to file Wilkes-Barre Area complaint or dismiss suit
Times Leader: Asbestos removal reveals hidden parts of Coughlin High School
Citizen's Voice: Class action wage lawsuit filed against Joe's Kwik Marts
Pocono Record: Northslope private community member and board battle over spending
South Central
Patriot-News: 'Injustice': Harrisburg's immigrant community fights for reforming deportation, IDs
Patriot-News: Sen. Bob Casey does an 'about-face' on gun-control, report
Patriot-News: State budget talks inch closer to an agreement; 'the last mile is the hardest mile to get to'
Carlisle Sentinel: House panel backs $31.6 billion budget plan
Carlisle Sentinel: Super PAC pledges $9M to help McGinty in US Senate race
York Dispatch: Pa. House GOP moves towards budget deadline      
Lehigh Valley
Morning Call: Allentown School District will give Superintendent Russ Mayo $237,000 sabbatical package
Morning Call: Pawlowski attorney: Supreme Court ruling may spare mayor from prosecution
Morning Call: House panel OKs budget, full chamber to vote Tuesday
Reading Eagle: Bill to aid child sex abuse victims could get a vote Tuesday    
North by Northwest
Centre Daily Times: State College school board accepts project approvals
Centre Daily Times: AccuWeather unveils new broadcast studio
Sun Gazette: WASD, Montgomery OK budgets with tax hikes
Opinion
Tribune Review: The Texas abortion law: 'Undue burden'
Post-Gazette: Break the immigration stalemate
Observer Reporter: "Brexit" shows that elections have consequences
Times Tribune: Still awaiting answers on sewer line
Inquirer: Pa. budget compromises look oddly like progress
Inquirer: Kenney: Yo, Philly, you don't want to miss this convention
Patriot-News: Trump's Brexit bump, the GOP's Obamacare non-answer and good news for coffee drinkers
Blogs
Citified: Meet the Dark Money Forces Behind Philly's Soda Tax
Citified: The Gritty Italian Market Wants That Center City Sparkle
2 Political Junkies: Well, George Will Is Gone