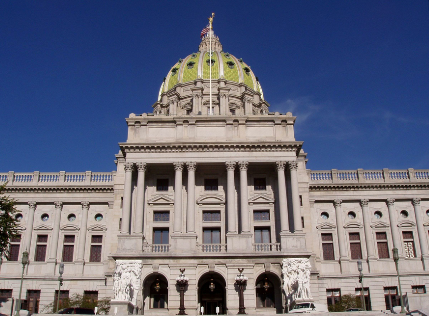 Good morning politicos, here's the buzz. Rick Santorum rallies Rs in Westmoreland County to support Mitt Romney – who has unintentionally loaned his singing voice to a new Obama ad; and Rep. Critz raised (but also spent) more money than his opponent Keith Rothfus.
Romney Sings Backup in New Obama Attack Ad (Watch Video): The Obama camp released a new ad Saturday that calls attention to Mitt Romney's foreign dealings. And it has one new and unusual feature: Romney singing "America the Beautiful" in the background – placing his patriotism in stark contrast to his offshore bank accounts.
Santorum Rallies for Romney in Southwest: In his second public appearance on behalf of Mitt Romney, Sen. Rick Santorum spoke to a crowd of 75 Republican activists in Westmoreland County Saturday. He accused Obama of a desire to weaken welfare reform.
7/13 Ups & Downs: It's Friday the Thirteenth. See who was unlucky enough to earn 'Downs' this week.
Fast Eddie Strikes Again With Obama Critiques (Watch Video): Former Pennsylvania Gov. Ed Rendell is at it again, criticizing President Obama on MSNBC Friday morning for a campaign attack against Mitt Romney and the terms of his severance with Bain Capital. Rendell's latest comments are yet another chapter in the saga of the campaign surrogate's criticisms.
Update: Casey Calls for American-Made Olympic Uniforms: Sen. Bob Casey, in a letter to the U.S. Olympic Committee, expressed his outrage regarding the overseas production of the Team USA opening ceremony uniforms and asked all future apparel be manufactured domestically.
Update: Critz Raises More, Rothfus Reports More Cash On Hand: Rep. Mark Critz has reported his strongest fundraising quarter since being elected to office in 2010, having raised $596,496 between April 5 and June 30
Update: Casey Fundraising Crushes Smith 3 To 1: Tom Smith netted $2.28M in Q2, including a $1.5M loan from himself. Casey had his best quarter yet, having raising $1.9M and now holding $6.22M cash on hand.
Sierra Club to Barletta: Save Wind Jobs (Watch Video): The Sierra Club has called upon Rep. Lou Barletta to renew the production tax credit for wind energy in a new ad today. According to the ad, more than half of the 75,000 jobs in the wind industry could "blow" away if Congress doesn't act to renew the credit.
National
Pennsylvania Ave: Smith has $2.2 million on hand, Casey has $6.2 million in his coffers
The Hill: White House to states: Time to get on board with healthcare reform
The Hill: Postal Service rescue bill stalls in Congress as cash woes mount
Washington Post: July panic for Obama – and for good reason
Washington Post: 14 reasons why this is the worst Congress ever
Washington Post: Democrats threaten GOP with 'fiscal cliff'
National Journal: Pressure Mounts on Romney to Release Tax Returns
National Journal: Romney Veep Clock Running Out
Politico: Dem govs: Obama message needs work
Politico: GOP govs want Mitt to hit back
Roll Call: 5 House freshmen stand out – including 1 from PA
Wall Street Journal: Fight over Romney's Bain tenure thunders on
Slate: Adviser said Romney "retroactively retired" from Bain
Slate: Obama: Washington still broken, says he'd make the same arguments about the economy if he were in Romney's shoes
USA Today: Analysis: Obama, Romney and a turn in the debate on jobs
USA Today: Team Obama to Romney: stop whining
USA Today: Romney slams Obama's tactics, defends Bain record
New York Times: In Tracing Romney's Role at Bain, a Convoluted Timeline
New York Times: At Times, Obama and His Cyberself Differ on Tactics
Five Thirty Eight: In Search for Female Running Mate, a Shortlist for Romney
Five Thirty Eight: Measuring the Effects of Voter Identification Laws
The Caucus: Romney Faces Mounting Attacks on Bain and Taxes
The Caucus: Romney Ad Faults Tone of Obama Campaign's Attacks
State
CapitolWire: OFF THE FLOOR: Angry Gov ensures questions about his Sandusky decisions will persist.
StateImpactPA: Drill Bits: Nationwide Won't Cover Fracking-Related Damage
StateImpactPA: The Energy Industry Strikes Back: New Movie Billed As Rebuttal To "Gasland"
StateImpactPA: Debating The Pros And Cons Of Increased Domestic Drilling
Capitol Ideas: Him are running for state House. Him will talk budget in Erie.
PA Independent: PA: Mandatory arbitration law binds financially distressed municipalities
PA Independent: Week in Review: Scranton going bust, PSU slammed over Sandusky scandal
Philadelphia
Philadelphia Weekly: Q&A: Green VP Candidate Cheri Honkala Says She'll Shed Light on PA Ballot Access
KYW Newsradio: Governor Corbett Defends His Handling Of Sandusky Investigation
WHYY Newsworks: Suburban lawmakers stick with party in health care vote
WHYY Newsworks: Philly's property tax plan may cause confusion
WHYY Newsworks: How effective are attack ads?
WHYY Newsworks: Puerto Ricans in Pa. face extra challenge to get voter IDs
Philly.com: State gives Phila. list of residents lacking voter ID
Philly.com: Foes of Pa. photo-ID law cite Puerto Ricans' plight
SEPA
Pottstown Mercury: Concerns linger on new Pa. teacher evaluations
Bucks Local News: Pennsbury citizens group receives backing of state teachers union in voting district battle
Delco Daily Times: Difficult lessons learned: School boards face tough budget decisions
Delco Daily Times: Candidates take shots at two-party system
Pittsburgh
Tribune Review: Romney to visit North Huntingdon company Tuesday
Tribune Review: USW President: November election most important in 80 years
Tribune Review: Welfare-to-work standards being waived
Tribune Review: Murtha's heralded story is told in book by two friends
Tribune Review: State AG, grand jury looking at employment and politics at Turnpike Commission
Post-Gazette: Rush is on to help PA voters obtain IDs
Post-Gazette: 16 of 43 Allegheny County school districts hike taxes
Post-Gazette: New law provides funds for PA state police training
Post-Gazette: Natural gas drilling industry fights 'Gasland' with own film
Post-Gazette: Allegheny Front: Is gas a bridge to lower carbon future…or a plank?
Post-Gazette: Community group: Cuts to Pittsburgh-area public transit service could cost more than budget gap
Early Returns: Dems pick for Pippy seat Tuesday
Early Returns: Oppo released in Critz/Rothfus
KDKA: Jury selection set to begin in federal lawsuit against Pittsburgh police officers
Southwest
Beaver County Times: More than 10,000 county voters lack PennDOT ID
Beaver County Times: Concerns linger on new PA teacher evaluations
Observer-Reporter: "Silent Spring" turns 50
Observer-Reporter: Maggi begins polling in 18th District
Observer-Reporter: Recipients of gas industry money named
Observer-Reporter: PA voters who lack ID should expect to get letters from state
Valley News Dispatch: 400-mile bike trek draws attention to shale drilling
Lehigh Valley
South Whitehall Patch: Dent: Prosecutor Needed to Probe National Security Leaks
South Whitehall Patch: New Pa. Political Maps Slammed by Residents and Dems
Express Times: White Township Committee approves nearly $3,500 in raises
Express Times: Charlie Dent, Rick Daugherty debate overseas call center positions
Morning Call: Hope springs eternal for job seekers
Morning Call: Voter ID no picnic if you lack a driver's license
NEPA
The Times Leader: State offers $2.3M if Scranton OKs recovery plan
The Times Leader: Obama jabs at Romney's record: President's ad aims to keep rival on defensive about private equity firm
The Times Leader: Neighbor says "Truthland" star should have talked to her
The Times Leader: Study results give ammunition to both sides of drilling
Times-Tribune: Districts fear bankruptcy as pension costs to triple
Times-Tribune: Scranton mayor says city council claims of bank 'collusion' are untrue
Pittston Politics: Interesting stats on Obamacare
Pittston Politics: PA's auditor non responsive
South Central
AP: Uproar over PA voter ID law fills summertime void
AP: Governors put off health care questions, for now
AP: Concerns linger on new Pa. teacher evaluations
Harrisburg Patriot News: Sen. Bob Casey Jr. walks political tightrope as he seeks second term
Harrisburg Patriot News: Pennsylvania's implementation of federal law allows youth to remain in foster care until age 21
York Daily Record: Obama, Romney already running presidential ground game in York County
North by Northwest
Erie Times-News: Casey: False start on made-in-China uniforms
Erie Times-News: Erie's English, Dahlkemper play roles in presidential campaigns
Sharon Herald: Robbins, Longietti near top on perk list
Opinion
Chambersburg Public Opinion Editorial: Pa. voter ID law starting to roil the waters
Harrisburg Patriot News Editorial: Schools such as HACC need assistance
Chambersburg Public Opinion Editorial: Lawmakers must put end to PSU's culture of secrecy
Morning Call: Romney represents the wealthy
Reading Eagle: Distribute college loans on basis of classroom success
Reading Eagle: Mayor must have the option to select administrators
Pittsburgh Post-Gazette: Op-ed: Labor's next big battle?
Williamsport Sun-Gazette Op-ed: Grab for gold in state budget
Lewistown Sentinel Editorial: Our firearm freedoms are non-negotiable
Blogs
Keystone Conservative: The Pros and Cons of Charters
Keystone Conservative: Club For Growth Releases Scorecard – How does PA Score?
CasablancaPA: No Like Button for this
John Hanger: Key Fact: New Generation Costs Three Times More Than Saving A Kilowatt-hour
John Hanger: Stunning Fact: Customer Generated Solar at 122,516 Sites In California Signals Historic Transformation Of Grid
Citizens' Call: Community Groups Sue PA for Failure to Meet Federal Law Requiring Voter Registration at Public Assistance Offices
Citizens' Call: Cheltenham Library System Seeks Public Involvement in Planning for Uncertain Times
2 Political Junkies: LIBOR? What's LIBOR?
2 Political Junkies: Mitt Romney Lied. That Part Is Simple
Keystone State Education Coalition: June 8: Gov. Corbett says it's time to reduce the funding for cyber schools. July 12: FBI, IRS Raid Offices of PA Cyberschool Pioneer Nick Trombetta
Pa Budget and Policy Center: Final 2012-13 Budget Analysis: Failing to Invest in a Stronger Pa. Economy
NEPArtisan: Corbett Is Guilty, Incompetent, Child Sex Predator Enabler
NEPArtisan: Letter-to-the-Blogger: Barrett Responds to Times Editorial Slamming Board
NEPArtisan: Scranton Selling Ad Space on Police Cars
Water Cooler: Barbecue Ban in Bellevue
PA Lu-Lac Political Letter: Health care, not scare care
Keystone Progress: Candidate Files State and Federal Complaints and Requests for Investigation Into $249,000 Voter Suppression Contract
Keystone Progress: It's time for Secretary  of the Commonwealth Carol Aichele to Resign or be Fired
Pennsylvania Progressive: News and Notes July 13, 2012
Above Average Jane: Phone survey on hospital merger
Penn Patriot: Louis Freeh's report flaws troubling. Evidence of a "cover up" by Joe Paterno vague at best
Keystone Politics: PA15: Holy Crap
Keystone Politics: How Liquor License Caps Are Killing PA's Cities
Keystone Politics: Dump Carol Aichele