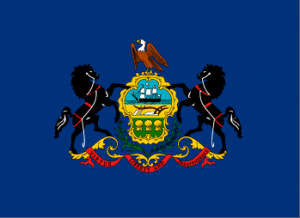 Governor Wolf announces that Teresa Miller will head up the Department of Human Services, and the Ups & Downs from the week.  Good morning politicos, here's the Playbook!
Wolf Announces Changes at Dept. of Human Services: Governor Tom Wolf announced that current Insurance Commissioner Teresa Miller will take over the state's Department of Human Services.
8/18 Ups & Downs: DiGiorgio makes a strong statement on Charlottesville and white supremacists, teachers get the more time to teach students, Bloom leads the filing in PA-11, and Metcalfe's previous statements come back to haunt him. See who made this week's Ups & Downs!
Statewide
State House Sound Bites: Dept. of Human Services gets a new secretary, but its future is still uncertain
State House Sound Bites: Episode 19: Social unrest; fiscal distress
State House Sound Bites: As economy changes, lawmakers look to make sure Pa. jobs keep up
City & State: Changes likely for Pennsylvania's Medicaid managed care system
City & State: Winners and Losers for the week ending August 18
Capitolwire: Special election reform – weighing the costs of democracy.
Philadelphia
Philly Voice: Social media rips Toomey's tweet on Bannon, Scaramucci firings
Billy Penn: Wine expert: The PA Liquor Control Board will be dead by 2019
Inquirer: Bala Cynwyd's dying main street: Will $100 million save it?
Inquirer: At Philly peace march, local issues dominate
Inquirer: Cops: Activist who ran for Philly mayor in 2011 spray-painted Rizzo statue
Inquirer: What could Philly do with the 2,000 pound Frank Rizzo statue?
Philadelphia Magazine: Martina White: The It Girl of Red Philadelphia
WHYY: As economy changes, state rep wants to make sure Pa. jobs keep up
SEPA
Delco Times: County council says safety is priority for pipeline
Delco Times: Democrat County Council candidates start swinging against their Republican counterparts, saying resolution against hate not enough
Pottstown Mercury: Costello, Houlahan raise nearly $1.3M so far for 2018 6th Dist. showdown
Bucks County Courier Times: PA attorney general warns of solar eclipse glasses scam
Bucks County Courier Times: Bucks County backs $660K bond for Doylestown airport expansion
Pittsburgh
WESA: State Treasury May Stop Loaning Money To Struggling General Fund
WESA: As Economy Changes, Lawmakers Look To Make Sure PA Jobs Keep Up
Tribune Review: Pennsylvania running out of options for cash to pay bills
Tribune Review: Mural of ex-Philadelphia Mayor Rizzo defaced
Tribune Review: Pennsylvania gains jobs, unemployment holds steady
Tribune Review: Study: State's overdose deaths are underreported, record-keeping fragmented
Pittsburgh Business Times: Pennsylvania unemployment rate steady in July
Post-Gazette: Centre County DA faces hearing over texts, Facebook account
Post-Gazette: Pennsylvania jobless rate unchanged as payrolls hit record
WPXI: What has changed since implementation of PA Core standards?
KDKA: Should Public Statue Of Stephen Foster Be Removed Because It Depicts A Slave?
Southwest
Observer-Reporter: Pa. jobless rate unchanged as payrolls hit record
Johnstown Tribune-Democrat: Mural of former Philly mayor defaced
Altoona Mirror: Farm tour highlights ag concerns
NEPA
Times Leader: AG announces $6.7M in debt relief for students at for-profit colleges
Times-Tribune: Atheist group suit against COLTS set for trial
Standard-Speaker: Unpaved roads get more state support
South Central
Patriot News: Will this 'crisis' in volunteer firefighting give you a higher tax bill?
LNP: Protesters could pay for emergency response costs under new bill from Sen. Scott Martin
LNP: Pennsylvania to get $8.3M from national EpiPen settlement
LNP: Pipeline builder strikes out in early bid for Columbia nuns' land
Lehigh Valley
Morning Call: Pennsylvania Senate defends budget 'earmarks' criticized by conservative group
Morning Call: State treasurer: Pennsylvania will run out of money to pay bills on Aug. 29
Morning Call: Is Allentown neglecting its fleet of firetrucks?
Reading Eagle: Democrats boost registration edge as more voters declare party independence
Reading Eagle: Ron Southwick: Congress develops an appetite for pork again
North by Northwest
Erie Times-News: 51 days without a complete state budget
Erie Times-News: Sinnott: Erie code sweeps will continue
Erie Times-News: Councilman wants public meeting on code sweeps
Centre Daily Times: Stacy Parks Miller disciplinary hearing response
Centre Daily Times: Pennsylvania running out of options for cash to pay bills
Opinion
Patriot News: 'What have you got to lose?' Turns out it's plenty | Tony May
Patriot News: Removing Confederate monuments – where does it end? | Charlie Gerow
Patriot News: Scott Wagner to critics: I'll always stand up to bigots | Opinion
Post-Gazette: Unproductive long-term debt is a drain on taxpayers
Post-Gazette: Russia remains: In the background, the election inquiry continues
Johnstown Tribune-Democrat: Sen. Pat Stefano | More transparency needed in gov't contracts
Williamsport Sun Gazette: The message from Pennsylvania to Washington: Get tax reform done
Reading Eagle: Editorial: Shortening PSSA is good but not enough
Altoona Mirror: PSSA testing changes will be beneficial
Daily News: Could a sane, not-racist Donald Trump have been a great president?
Inquirer: Gun buyback programs can help, but much more is needed to reduce Philly's violence
Inquirer: Less howling helped Wolf with legislature, but PA budget fight needs his bark
Bucks County Courier Times: Another View: Treating addicts inside prison
LNP: Local GOP leaders who backed Trump ought to be able to answer questions about him now