By Keegan Gibson, Managing Editor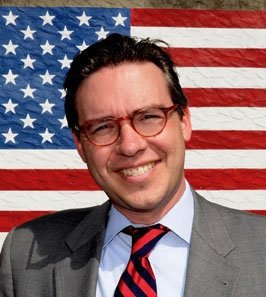 One of Philadelphia's most popular Republicans has endorsed Chester County entrepreneur Steve Welch for U.S. Senate.
Al Schmidt, who recently won election to Philadelphia City Commission, threw his support behind Welch today. He takes office in January after an uphill campaign against incumbent Joseph Duda. Schmidt is also the former Executive Director of the GOP City Committee and the de facto leader of a new guard of Philly Republicans that has emerged in recent years.
"The people of Pennsylvania will be well served by having Steve Welch as their U.S. Senator," Schmidt said. "Steve will bring real solutions to getting this economy back on track. He will bring an understanding of what it takes to create jobs, which is desperately needed in today's economy."
Schmidt holds a Ph.D. in political history from Brandeis University and has the reputation of a reformer and a technocrat. Along with fellow newcomer, Democrat Stephanie Singer, he is expected to bring the Commissioners office into the 21st century. The office oversees elections in the city of Brotherly Love.
"I am proud to have Al Schmidt on our team. We need leaders like Al who are willing to put the people of Philadelphia in front of political expediency," Welch said.
The endorsement is a nice pickup for Welch, as strong support in southeast Pa. is a key part of his victory equation.
It's been a busy week for Welch, one of just two Philadelphia-area candidates now that Pa. Senator Dominic Pileggi (R-Delaware) has taken a pass on a bid (the other is David Christian, of Bucks County). He has rolled out a number of other new supporters.
Wayne Woodman, leader of the Lehigh County GOP who hosted fundraisers for Charlie Dent and Pat Toomey, recently came on as his eastern Pa. finance co-chairman.
On Monday the campaign named Jeff Kendall, CEO of Liberty Tire Recycling,  LLC, as western Pa. finance co-chairman. Kendall was named a CEO of the year by the Pittsburgh Post-Gazette in its July Tech Awards. PoliticsPA reported last week that two of Pittsburgh's top GOP fundraisers, Carey Dunn and Amy Petraglia, also signed on with Welch.
Finally, Welch named the inaugural members of his Grassroots Advisory Board – a collection of Tea Party and other conservative leaders mostly in southeast Pa:
Rich Davis, Chester County Sheepdogs; Sean Carpenter, Vice President, Independence Hall Tea Party Political Action Committee, Chester County; Karl Bucus, PA Watercooler [and a GOP committeeman from Chesco]; Barry Papiernik and Lisa Mossie of Live and Local, WFYL, Montgomery County; and Ethan Demme, Chairman Lancaster County GOP.