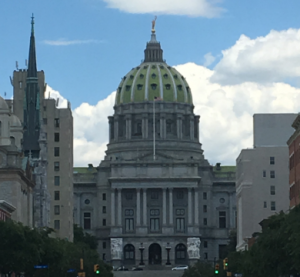 A poll released by a conservative group shows Wagner and Barletta in striking distance, while Pope Francis responds to the clergy sex abuse scandal. Here is the Playbook.
PA-10: DCCC Adds Scott to Red to Blue Program: The DCCC said Scott's military service and role as a Lutheran pastor plays well in the district.
Internal Poll: Wagner and Barletta in Striking Distance; Trump 8 point Net Approval: Numbers from a GOP group paint a more competitive picture of 2018 elections than public pollsters.
Legislative Election Updates
HD-93: Delma Rivera-Lytle officially approved as Democratic candidate for 93rd District
Harrisburg & DC
Inquirer: As Pope Francis pledges reform, AG Josh Shapiro urges Pa. church leaders to stop 'denials and deflections' on clergy sex abuse
Inquirer: Are Pa. Republicans in 'dead heat' races for governor and the U.S. Senate?
AP: Correction: Pennsylvania Dioceses-Sex Abuse-Lawsuits story
Inquirer: Pa. 'survivalist' who threatened to kill Trump spotted in Maryland, authorities say
Washington Times: Trump-backer Barletta battling midterm odds against 'Sleeping Bob' Casey in Pennsylvania
PLSReporter: Wolf Administration hosts press conference to detail new apprenticeship programs throughout the state
PLSReporter: Wolf agrees to debate Wagner at Chamber event
Erie Times-News: Roll Call: Senators vote on key issue
Erie News Now: Gov. Wolf Brings Town Hall Meeting On Asian Pacific American Affairs to Erie
AP: Another hearing set to begin in Penn State frat death case
WHYY Newsworks: Calls spike to Pennsylvania's clergy abuse hotline
Bucks County Courier Times: State issues new medical marijuana research rules
WHYY Newsworks: Cash Assistance Program Will Start Issuing Benefits Again Next Month
AP: Will Other States Follow Pennsylvania On Church Abuse?
Inquirer: In Pennsylvania, gun ranges equal big business
PennLive: Here's 5 midterm worries for Republicans, analysts say | Monday Morning Coffee
PennLive: 'I'd have to give it consideration,' Scott Wagner says if bill ending same-sex marriage came to his desk
Erie Times-News: Scott Wagner, in Erie, vows to focus on education, lower taxes
Pope Francis: Pope Francis' letter on clergy sex abuse
Philadelphia
KYW Newsradio: Philadelphia tries to set the tone for U.S. – China relations
KYW Newsradio: Philly school teachers getting started earlier than ever
Philadelphia Business Journal: The Soaring 76 is here. Meet the fastest-growing companies in Greater Philadelphia.
AP: 2 Philadelphia priests, 1 accused of sex abuse, found unfit for ministry
WHYY Newsworks: With deal for use of Market Street site, Philly officials hope to recoup $50M
Philadelphia Magazine: This Pizza-Giving, MAGA-Protesting Bike Messenger Says He's Running for City Council
Inquirer: Ex-workers get prison for role in Renee Tartaglione scheme
Inquirer: How reverse mortgages can hurt, rather than help, aging Philly homeowners
SEPA
WHYY Newsworks: Montco GOP hopeful running for Congress with confidence
Daily Local News: Chamber's 10th Gold Leaf celebration to honor Arkoosh, Kichline
Daily Local News: Delco D.A.'s seminar teaches educators how to stay safe
Daily Local News: Downingtown Borough Council approves fire services agreement with East Caln Township
Daily Local News: BID report paints rosy picture for business in West Chester
Delco Daily Times: Former Delco priest deemed 'not suitable for ministry'
Bucks County Courier Times: Murt to host session on Lyme disease
Pittsburgh
Tribune Review: Abuse by Priests victims group confronts clergy in Pittsburgh: 'We need action'
Tribune Review: Ben Carson says in Ambridge stop that HUD is combating affordable housing crisis
Post-Gazette: Pittsburgh is the No. 2 most livable city in America
Post-Gazette: A young woman's murder rekindles distrust of police in Aliquippa
Post-Gazette: Vandal spray-paints over Cardinal Wuerl's name on North Catholic High School sign
Post-Gazette: Spokesman: Pittsburgh Diocese could support bigger window for legal action over sexual abuse
Post-Gazette: Greensburg priest who retired after allegations went on to abuse again
Post-Gazette: Pittsburgh Bishop Zubik outlines diocese response in wake of grand jury report in letter to parishioners
Pittsburgh Business Times: Big pieces being erected – and even more on the way – at Shell plant
KDKA: Ben Carson Tours Beaver County, Boosts Rothfus In Key Congressional Race
KDKA: Parishioners Express Betrayal, Confusion During St. James Town Hall Meeting About Grand Jury Report
SWPA
Johnstown Tribune-Democrat: MERGING SCHOOLS | Lawmakers seek solutions to school issues that voters will support
Johnstown Tribune-Democrat: WATCH VIDEO | Charter increase: Number of Pa. schools growing, not shrinking
Altoona Mirror: Seminar looks at predator's actions
Altoona Mirror: AASD OKs several change orders
Observer-Reporter: Local tax contribution to Washington County employee pensions pegged at $2.2 million next year
Beaver County Times: Ambridge Water Authority refutes Shell comments in DEP filing
Beaver County Times: Diocese: Seven area priests removed before abuse report
Beaver County Times: Proposed Mount Airy Casino would add to tourism possibilities, official says
NEPA
Times-Tribune: Abuse survivors group discusses diocese grand jury report
Times-Tribune: State: Scranton School District not required to rehire furloughed teachers under grant
Citizens Voice: Eliminating school property taxes topic of hearing in W-B
The Times Leader: Wyoming divided over embattles borough manager
The Times Leader: 'Tax fairness' hearing morphs into debate on property tax elimination
The Times Leader: Retirement of Wilkes-Barre employee raises questions about pension
The Times Leader: Study shows regional job growth in health care and manufacturing
Times-Tribune: University of Scranton stripping Scranton bishops' names from buildings
Times-Tribune: Lackawanna County Commissioners, Prison Board to meet Wednesday
Times-Tribune: Prison guard says he was fired for reporting sexual abuse
South Central
LNP | LancasterOnline: Map: Here's what's new in 2018-19 at Lancaster County schools
LNP | LancasterOnline: $800K project begins to repair and resurface Harrisburg Pike in East Hempfield Township
York Dispatch: York City mayor, activists agree on how to diversify police department
York Dispatch: Report cites cases of 2 York-area priests as examples of 'wholesale institutional failure
PennLive: In the wake of clergy sex abuse report, Cardinal Keeler's legacy is being rewritten
PennLive: Here's 5 midterm worries for Republicans, analysts say | Monday Morning Coffee
PennLive: 'I'd have to give it consideration,' Scott Wagner says if bill ending same-sex marriage came to his desk
PennLive: Federal corruption trial begins for ex-mayor
PennLive: Harrisburg schools superintendent responds to critics: 'I have to make hard decisions'
Lehigh Valley
Express Times: DeSales may ditch names of bishops who appeared in grand jury's findings
Reading Eagle: Opening arguments made at trial of former Reading mayor
Reading Eagle: Congressional candidate Dan David focuses on financial issues
Morning Call: Wake-up Call: Sex
Morning Call: 'It was all about the money' for ex-Reading Mayor Vaughn Spencer, prosecutor tells jurors in pay-to-play trial
North by Northwest
Erie Times-News: Scott Wagner, in Erie, vows to focus on education, lower taxes
Erie Times-News: Roll Call: Senators vote on key issue
Erie Times-News: Erie-area congressional race heats up
Erie News Now: Gov. Wolf Brings Town Hall Meeting On Asian Pacific American Affairs to Erie
Williamsport Sun-Gazette: New South Williamsport police chief ready and able to take command
Centre Daily Times: State College ranked one of safest college towns
Opinion
Inquirer Editorial Board: Cars, fat salaries, big perks: Why are we spoiling Pennsylvania lawmakers?
Richard Lavinthal: Josh Shapiro's slickly managed press conference stepped on his message
Solomon Jones: Beyond solving young man's murder, we must solve what's wrong in our society
Diane Hagerman: Removing barriers to success gives kids the opportunity to thrive
Teresa Huizar: When institutions treat scandals as PR risks, victims suffer most
Inquirer Editorial Board: City Hall: Work overtime to cut spending
Abraham Gutman: After the grand jury report: What we're reading about Catholicism, clergy and the future of the faithful
Patty-Pat Kozlowski: 'Council staffers stuck together.' Remembering my friend, Linda Rios-Neuby
Christine Flowers: Death is never expected; neither is the reaction
Tribune Review: Editorial: Back-to-school different in an active-shooter world
Tom Purcell: Why homeownership pressure is good
Post-Gazette Editorial Board: 'Glaringly empty': An elections panel rightly goes out of business
Post-Gazette Editorial Board: Our combatant: Ameen case shows hols in U.S. refugee program
Post-Gazette Editorial Board: A common enemy: U.S.-Mexican effort is the right step in drug war
York Dispatch Editorial: Widen door of justice for victims of predator priests