The race in Pennsylvania's seventh district is heating up as election day nears. The latest is George Badey's new ad attacking the Rep. Patrick Meehan (R-Delaware). It criticizes Meehan's record and character, attempting to bring up discrepancies between his purported values and voting record.
It shows notable GOP figures Rick Santorum, Mitt Romney and Paul Ryan holding masks that look like the Republican Congressman.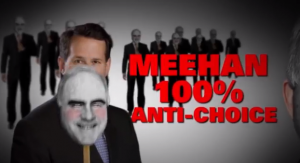 "Who is the real Pat Meehan? Candidate Pat Meehan claimed to be a moderate. But Congressman Pat is 100 percent anti-choice," says an announcer.
The ad's major focus is Meehan's vote for the Ryan budget, and the widespread implications it has for statements the congressman had made.  The ad is drawing the conclusion that Meehans contradicted his pledges not to vote for the privatization of Social Security or to vote for the Ryan budget at all.
"Candidate Pat pledged never to cut Medicare. But Congressman Pat voted twice to privatize Medicare."
Meehan was the target of similar criticism in 2011. Unlike many GOP incumbents who can take cover in semantics, Meehan specifically disavowed Ryan's budget during a 2010 campaign debate.
The ad will air on cable throughout the district until election day, said a Badey campaign spokesman.
The Meehan campaign dismissed the attack. John Elizandro, Meehan's Political Director, referred to it as one of the "silly attacks and falsehoods" that the Badey campaign is using "to hide his support for $716 billion in Medicare cuts for today's seniors" – a reference to Badey's support for the Affordable Care Act.
"Congressman Meehan has a proven record of bipartisan accomplishment that earned him the endorsement of the Philadelphia Inquirer, which praised his 'demonstrated ability to work across party lines on projects that mean jobs,'" Elizandro said.
Badey has been strong on the point of casting Meehan as a man who broke his promises to the people of his state on his stance on Medicare, attacking his positions and making the promise to "ensure that it will be there for them when they retire."
Badey is an attorney from Radnor. Meehan is a former District Attorney.
The 7th district has not turned out to be competitive, evidenced by the fact that Meehan cancelled plans to spend half a million dollars on television over the next two weeks.