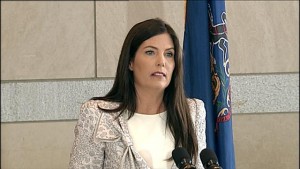 If you've been paying attention to this Tuesday's primary and feel behind in your Kathleen Kane news, don't worry there's plenty to cover.
First, we learned that Kane's Chief of Staff Jonathan Duecker, the man accused of sexual harassment by two women, has been promoted.
Duecker will now have authority over personnel decisions. To put that more plainly, he'll decide who gets hired and who gets fired. This decision was made after Kane learned about the allegations against Duecker.
Furthermore the man who used to have control over personnel matters, Deputy Bruce Beemer, testified against Kane during her grand jury investigation.
Naturally, this brings up the question of retaliation. The AG already fired James Barker, another person who testified against her. Kane is also under investigation for that action.
As a result of all this, members of the Attorney General's office are reportedly looking into forming a union.
For even more background on these cases, feel free to peruse our extensive and exhaustive timeline of Kathleen Kane's tenure and controversies.