The National Republican Congressional Committee has advanced PA-7 Republican nominee Marty Nothstein within its "Young Guns" program.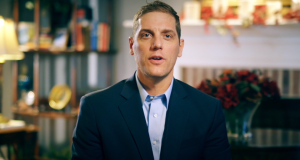 The recruitment program was founded over a decade ago and recognizes GOP candidates across the country who show promise of running competitive, successful campaigns to add to the Republican majority in the House.
The benchmarks measure fundraising, messaging and communications factors in collaboration with the NRCC when moving candidates up through its three-tiered system of "on the radar," "contender" and "young guns."
The committee put Nothstein "on the radar" early last month.
He is facing former Allentown solicitor Susan Wild for the seat vacated by Charlie Dent in a race considered highly competitive.
"We have an impressive, hardworking field of candidates across the country, and these contenders are no exception," said NRCC Chairman Steve Stivers in a press release Monday. "As primary season continues and we move into the general election, the NRCC is proud to support these proven champions through victory in November."
Nothstein was among eight other candidates who advanced through the program. Officials noted that the Young Guns effort has helped elect more than Republican 140 candidates to Congress since 2010.