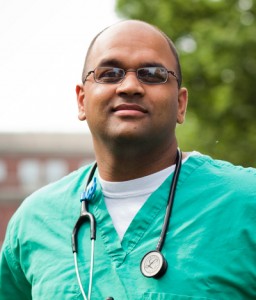 314 PAC, an organization committed to electing candidates with scientific and technical backgrounds, today endorsed Democrat Manan Trivedi in the 6th Congressional District.
Trivedi served during the Iraq War as a battalion surgeon with the United States Marine Corps. In addition, he treated the poor and uninsured in inner-city and rural areas. Currently, Trivedi is a health policy consultant and part-time primary care physician.
The 314 PAC was created by Shaughnessy Naughton, a Democrat who lost a close primary battle in Pennsylvania's 8th Congressional District.
"Through his experience as a combat physician with the US Marine Corps, Manan Trivedi has studied the effect PTSD has had on our troops and knows how important research funding is to finding cures and solutions", says Naughton.
"Trivedi's platform focuses on pressing issues 314 PAC has highlighted, such as improving our education system's STEM curriculum and crafting a smarter, cleaner energy policy. We are proud to make him one of our top-tier candidates in the 2014 election cycle."
Trivedi is currently running against Republican Ryan Costello for the seat left open by the retirement of Congressman Jim Gerlach.