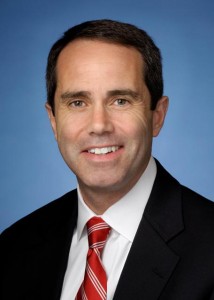 It begins.
Just hours after Shaughnessy Naughton announced her candidacy for Pennsylvania's 8th Congressional District, as well as the support of former Gov. Ed Rendell, her opponent State Rep. Steve Santarsiero released a lengthy list of his supporters.
A State Representative since 2009 and before that a Lower Makefield Township Supervisor for six years, Santarsiero has deep connections in the district.
In an attempt to skirt the divisive 2014 primary, Santarsiero highlighted his support from backers of both Strouse and Naughton two years ago.
"Steve Santarsiero will have the entire Democratic network behind him. He is a candidate people are really excited about," said Bucks County Commissioner Diane Marseglia, who supported Strouse in 2014.
"As one of Shaughnessy Naughton's earliest supporters for the 2014 cycle, I know her to be smart and capable with a genuine passion for the environment and policy," Doylestown Borough Council President Det Ansinn stated. "That being said, Steve Santarsiero is my candidate for 2016. I've known Steve for more than a decade and have seen him put his words into action. I am thrilled that he stepped up to the plate for 2016".
"Steve Santarsiero hasn't just talked about the issues," Bucks County NOW President Helene Ratner asserted. "Steve has put up the tough votes in Harrisburg to show that he is willing to take a stand on the issues that matter most like women's reproductive rights, environmental protection and LGBT rights. I was proud to help him secure the support of the National Organization for Women and he will continue to have my support in 2016."
"I'm honored to have the backing of so many local leaders from across the district," Santarsiero responded. "Bringing people together to get the job done is what my career has always been about – and it's good to see what working in my campaign for Congress as well."
The full list of Santarsiero's endorsements is included below:
Congressman Bob Brady
Fmr. Philadelphia Controller Jonathan Saidel
Fmr. Congressman Peter Kostmayer
Bucks County Commissioner Diane Marseglia
Montgomery County Commissioner Josh Shapiro
State Senator Matt Smith
State Representative John Galloway
State Representative Tina Davis
State Representative Matt Bradford
State Representative Madeleine Dean
2012 PA -8 Democratic Nominee Kathy Boockvar
2014 PA-8 Democratic Nominee Kevin Strouse
Bristol Township Democratic Committee
Doylestown Mayor Ron Strouse
Doylestown Council President Det Ansinn
Doylestown Council Member Joseph Frederick
Bristol Borough Councilman Greg Pezza
Falls Township Supervisor Bob Harvie
Falls Township Supervisor Jeff Dence
Bensalem Councilman Bryan Allen
Yardley Boro Council President Joe Hunter
Morrisville Borough Council President Nancy Sherlock
Morrisville Borough Council Vice President Fred Kerner
Newtown Township Supervisors Phil Calabro
Newtown Township Supervisor Jen Dix
Northampton Supervisor Dr. Kimberly Rose
State Committeewoman Pam Janvey
State Committeewoman Stephanie Fineman
State Committeeman Jordan Yeager
Bucks County Democratic Committee Vice-Chair Glynnis Tihansky
143rd District Democratic Committee Chair Bill Ritter
29th District Democratic Committee Chair Brian Munroe
18th District Democratic Committee Chair Karen Downer
Lower Southampton Democratic Club Chair Sean Hoffman
Plumstead Democrats Chair Charles Beebe
Newtown Democrats Chair Dennis Fisher
Hilltown Township Democrats Chair Katherine Macaulay
Bridgeton Township Democrats Chair Michael Doyle
Warrington Democrats Chair Kayma Sherman-Knuckles
Lower Makefield Democratic Club Chair Mark Moffa
Lower Makefield Democratic Club Vice-Chair Karen Vander Laan
Lower Makefield Democratic Club Treasurer Zachary Rubin
Doylestown Democratic Committee Vice-Chair Susan Gordon
Warminster Township Democratic Organization Acting Vice Chair Patricia Boyle
Fmr. Centennial School Board Member Michael Monaghan
Candidate for Lower Makefield Supervisor John Lewis
Candidate for Newtown Township Supervisor Mark Joseph
Candidate for Warminster Township Supervisor Katherine Frescatore
Newtown Township Committee Person Charles Goren
Newtown Borough Committee Person Sally Thompson
Newtown Township Committee Person Patricia Fear
Newtown Township Committee Person Edward Valenti
Lower Makefield Township Committee Person Fred Childs
Lower Makefield Township Committee Person Joanne Lewis
Warrington Township Committee Person Stuart Marc Cohen
Buckingham Township Committee Person Robin Rosenthal
Hilltown Township Committee Person Laura Rivera
Northampton Township Committee Person Gregory S. Hill
Doylestown Borough Committee Person Randee Block
Bensalem Township Committee Person Sharon Derr
Middletown Township Committee Person Fran Fried
Middletown Township Committee Person John Toth
Lower Makefield Township Community Organizer Robin Stelly
Middletown Township Committee Person Evelyn Throne
Bristol Township Committee Person Kathleen Siry
Doylestown Township Committee Person Cathleen Schlager
Springfield Township Committee Person Cara Simonetta
Wrightstown Township Committee Person Katherine Bartholomew
Warminster Township Committee Person Raymond Regan
Warminster Township Committee Person Mark Greiner
Doylestown Township Committee Person Samuel Kolodney
Doylestown Township Committee Person Madeline Rawley
Lower Makefield Township Committee Person David Auslander
Lower Makefield Township Committee Person Markus Barth
Lower Makefield Township Committee Person Arthur Cohn
Lower Makefield Township Committee Person Alan Dresser
Lower Makefield Township Committee Person Connie Gruen
Lower Makefield Township Committee Person Jerry Gruen
Lower Makefield Township Committee Person Phil Lewis
Lower Makefield Township Committee Person Paul Roden
Lower Makefield Township Committee Person Linda Schmid
Lower Makefield Township Committee Person Christian Schwartz
Newtown Borough Committee Person Marvin Cohen