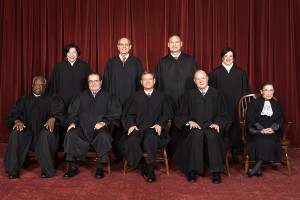 The Supreme Court once again upheld the Affordable Care Act aka Obamacare.
In a 6-3 decision, the Court ruled in favor of the Obama Administration.
The case, King v. Burwell, concerned a typo in the law that could've seriously hampered the ACA.
The health care system currently relies on exchanges maintained either by the states, or if the states choose not to set one up, by the federal government.
In this case, King argued that the exchanges set up by the federal government were illegal.
Pennsylvania has no state-run exchange system and is reliant on the government's subsidies. The Governor sought, and even received, permission from the government to create a state exchange if necessary.
Governor Wolf, however, is quite happy that it didn't come to that.
"I am extremely pleased with the Supreme Court's ruling in King v. Burwell," he stated. "As a result of this decision, roughly 382,000 Pennsylvanians will keep their much-needed assistance to help them afford health care."
"I took steps to protect Pennsylvania's consumers by putting in place a contingency in the event the Supreme Court ruled people are not eligible for subsidies, but I am pleased to say that we will no longer need to rely on this plan," he continued.
"My administration will be notifying the federal government that we will be withdrawing our plan to set up a state based health insurance marketplace in Pennsylvania," the Governor concluded.
The Court and the Decision
The Court consists of four Justices that are considered progressives and were appointed by Democratic Presidents: Ruth Bader Ginsburg (Clinton); Stephen Breyer (Clinton); Sonia Sotomayor (Obama); and Elena Kagan (Obama).
As well as four Justices that are considered conservatives and were appointed by Republican Presidents: Chief Justice John Roberts (Bush 43); Antonin Scalia (Reagan); Clarence Thomas (Bush 41); and Samuel Alito (Bush 43).
Justice Anthony Kennedy (Reagan) is generally regarded as the swing Justice.
The majority consists of Roberts, Kennedy, Ginsburg, Breyer, Sotomayor and Kagan. The Chief Justice wrote the majority opinion.
"Congress passed the Affordable Care Act to improve health insurance markets, not to destroy them," the Chief Justice concluded. "If at all possible, we must interpret the Act in a way that is consistent with the former, and avoids the latter."
The minority consists of Scalia, Thomas and Alito. Justice Scalia, the most senior Justice of the dissenters wrote the minority opinion. An originalist, Scalia asserted that the Court is over-reaching.
"We should start calling this law SCOTUScare," he wrote.