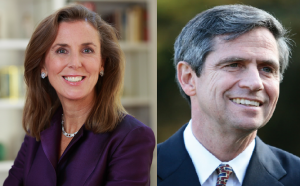 You don't see this everyday.
According to Jonathan Tamari of the Inquirer, the Pennsylvania Association of Staff Nurses and Allied Professionals is endorsing Katie McGinty's Senate campaign.
The unusual part?
PASNAP endorsed Joe Sestak back in 2013 but is rescinding that endorsement.
"We were just very disappointed in Joe Sestak in the fact that he steadfastly refused to stand publicly with nurses who were in a difficult situation," Executive Director Bill Cruice told Tamari.
PASNAP represents about 5,500 nurses and professional hospital staff in Pennsylvania.
"Katie McGinty has shown that she is prepared to stand up for Registered Nurses and health professionals as they advocate for the interests of their patients," PASNAP President Patty Eakin stated. "That's the kind of leaders working people need in Washington."
"It is an honor to have the backing of PASNAP because they represent nurses and health care professionals who are on the frontlines of delivering care to patients every single day," McGinty responded. "As Senator, I will work to ensure that every American has access to affordable, health care. That means not only standing up to those who want to repeal the Affordable Care Act, but also working with the health care community to reduce health care costs without reducing the quality of care people receive."
The move comes one day after Senate Democratic Leader Harry Reid predicted McGinty would win and the switch has already caught the attention of national pundits:
We talk a lot about The Establishment on the R side–if McGinty gets through this, HUGE win for D Establishment https://t.co/7FofcAX7VH

— Luke Russert (@LukeRussert) October 14, 2015
McGinty and Sestak are running against Braddock Mayor John Fetterman in the Democratic primary. Incumbent GOP Sen. Pat Toomey is also running for re-election.