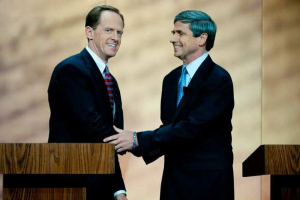 The latest Quinnipiac Poll is the best news Sen. Pat Toomey has received this month.
After a tepid F&M Poll and a RMU survey that actually showed him trailing, the newest results from Quinnipiac have the incumbent with an eleven point advantage.
Senator Toomey leads 2010 opponent Joe Sestak 47% to 36% in the latest survey.
Toomey is still beneath the fifty percent threshold that incumbents normally must break to feel comfortable, though, as 14% are undecided.
The Senator's margin also slightly shrunk from April when his lead was thirteen points.
Still, Toomey has the advantage among independents, men and even women (by a single point).
He also has a massive lead over his other potential opponent Allentown Mayor Ed Pawlowski. Toomey is ahead of Pawlowski, 52% to 28%.
Favorability
Meanwhile, 47% of respondents have a favorable opinion of the Senator against 24% that have an unfavorable view and 28% who haven't heard enough.
These are the best numbers Toomey has ever received in a Quinnipiac poll on this question.
Sestak, on the other hand, has a 26/15 favorable/unfavorable split with 58% not having heard enough about him.
Those stats are nothing compared to Pawlowski, however, who is a virtual unknown to a whopping 85% of the commonwealth. Just 6% gave him a favorable rating while 8% handed him an unfavorable rating.
Finally, Sen. Toomey scored a 51% approval rating while just 28% said they disapproved of his performance. These are also the best numbers he's ever gotten on this question in a Quinnipiac survey.
This Quinnipiac Poll was conducted from June 4th to June 15th. 970 Pennsylvania registered voters were interviewed live through land lines and cell phones. The margin of error is plus or minus 3.2%.