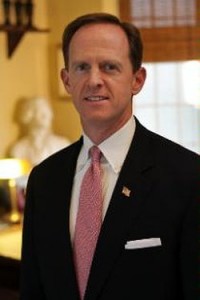 Sen. Pat Toomey is continuing his defense of law enforcement officials across the country.
This time Toomey expressed his views in a Memorial Day editorial in the Tribune Review.
Toomey's editorial – entitled 'Don't scapegoat police officers' – takes a stand for "the overwhelming majority of police officers [who] are honest, hardworking Americans, who are motivated solely by the desire to protect and serve."
In the piece, the Republican Senator takes aim at the riots in Baltimore after the death of Freddie Gray while in police custody.
"They cut the firehose," Toomey opens the opinion piece. "After looting store after store, setting 144 cars ablaze, hurling rocks and bricks at police, closing down 200 businesses, and setting fire to a newly constructed senior center and CVS, the Baltimore rioters cut the firehose as firefighters tried to save the city."
This isn't the first time Toomey has spoken up in support of law enforcement this month. On May 5th, he addressed the Senate about police being "scapegoated."
"My concern specifically is over the growing scapegoating of police officers in America today," Toomey said from the Senate floor. "If you listen to many of the police critics that we hear from today, you'd think that there's some sort of epidemic of crimes perpetrated by the police and that … I assure you is not true."
The junior Senator from PA also expressed sympathy for Officer Darren Wilson – the Ferguson, Missouri officer cleared in the shooting death of Michael Brown – both to the Senate and in his Tribune-Review editorial.
On Friday, Toomey wrote a letter to the White House voicing his opposition to Pres. Obama's executive order banning the transfer of military-grade weapons to local police departments.
In a response to Toomey's letter, the White House said Toomey's message may "alienate and intimidate local residents and send the wrong message."